The Higher Learning Commission (HLC) is an independent corporation that was founded in 1895 as one of six regional institutional accreditors in the United States. HLC's mission is to advance the common good through quality assurance of higher education as the leader in equitable, transformative, and trusted accreditation in the service of students and member institutions. Oklahoma City University was first accredited in 1951 and currently participates in the Open Pathway 10-Year Cycle described below. The Open Pathway allows OCU to innovatively address institutional goals, while also reaffirming our mission; an institution focused on student success and quality education.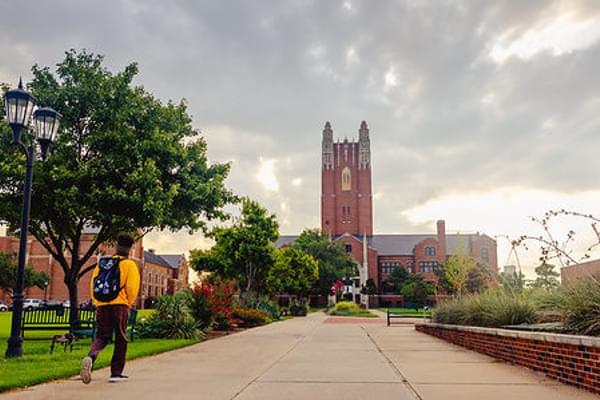 Years 1-3: Prepare Assurance Filing

OCU gathers documents for its Evidence File and writers the four-year Assurance Argument for the Assurance Review
Year 4: Assurance Review
HLC institutions are required to undergo assurance review to ensure that they are meeting the Criteria for Accreditation.
Years 5-9: Quality Initiative Proposal and Report
OCU proposes and completes a Quality Initiative suited for its needs and objectives. The purpose of the initiative is to increase the ability of OCU to meet its mission. In the current cycle, OCU's Quality Initiative was Sustaining Student Success.
Year 10: Comprehensive Evaluation and HLC Visit for Reaffirmation
HLC conducts a full comprehensive accreditation evaluation. This includes a Federal Compliance Review, a review of the university's Assurance Argument, a Student Opinion Survey, and a site visit from peer reviewers. This evaluation is designed to ensure that OCU meets HLC's Criteria for Accreditation, follows U.S. Department of Education requirements, and pursues continuous improvement. OCU's next visit for reaffirmation is scheduled for February 28-March 1 of 2022.
The most recent version of OCU's Assurance Argument for Reaffirmation of Accreditation can be viewed here. Please note that the evidence links are not viewable except by review team members within the HLC Assurance System portal.
For more information contact Assistant to the Provost for Accreditation Dr. Adam Ryburn (aryburn@okcu.edu) or OCU Accreditation Liaison Officer Mark McClendon (mbmcclendon@okcu.edu).