Help Us Send Stars Abroad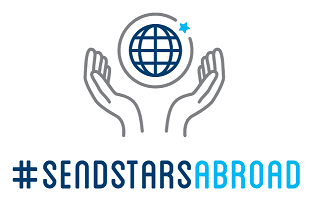 We regularly hear from study abroad alumni that studying abroad was one of the most impactful experiences they had in college. However, with rising costs, it can be difficult for all OCU students to fund these life-changing experiences. The Study Abroad Office seeks to support all students who wish to study abroad by increasing the amount of scholarship dollars available through the university. Will you help us #SendStarsAbroad by giving to the Study Abroad Scholarship Fund?
The Study Abroad Office hosts a fundraising campaign each year to raise scholarship dollars and decrease program costs for OCU students participating in study abroad programs. The campaign kicks off in November during International Education Week. If you are interested in developing a matching gift for the #SendStarsAbroad campaign, please contact the office at [email protected].
You can support study abroad scholarships throughout the year by giving online (choose "other" and type "Study Abroad"), by phone (405-208-7000), or by mail. Please share why you want to #SendStarsAbroad and encourage others to give too.