Join our constellation of Stars at OCU! As a top liberal arts and sciences university, Oklahoma City University has been leading students to their creative edge for more than a century. We are a diverse community of academic achievers, big thinkers, independent spirits, and dedicated artists. At OCU, faculty, staff, and students from across the globe follow their passions to create, lead, and serve. Join our community to discover why OCU is such a great place to learn, live, and call home.
Our Mission
Oklahoma City University prepares all learners to Create, Lead, and Serve.
We provide a diverse, inclusive culture committed to producing graduates who think critically and innovatively, communicate effectively, and use their knowledge and talents to make a local and global impact.
CREATE
Oklahoma City University fosters a creative environment to work, learn, and live.
From the performing and fine arts to business, nursing and arts and sciences, we are a community of creativity. Faculty and staff help students pursue their passion and create their future.
LEAD
Leadership and learning are synonymous at OCU.
You will find alumni in leadership positions in corporate boardrooms, behind the pulpit, on Broadway, in hospitals and in businesses around the world. Faculty and staff lead by example, paving the way for students and alumni to become leaders in their own communities.
SERVE
Service learning and servant leadership are core components of the OCU experience.
Our campus community honors the United Methodist tradition of scholarship and service.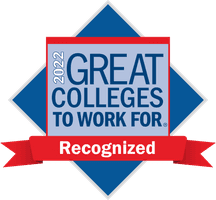 Officially a Great College to Work For
OCU has once again earned a spot on The Chronicle for Higher Education's list of Great Colleges to Work For.
Since The Chronicle began publishing the rankings in 2008, OCU has appeared on the list nine times!

Job Openings
View the current career opportunities here!