Oklahoma City University's applicant tracking system for all faculty, staff, temporary, and adjunct positions will transition to PageUp, our new platform, effective Monday, February 13. To support this transition process, the university's career site will be unavailable starting Tuesday, January 31 through Monday, February 13.
Beginning Monday, February 13, we invite you to visit this page for job opportunities that align with your skills and interests and welcome you to apply via our new applicant tracking system, PageUp.  
Please note: If you previously applied to a position, you will receive direct outreach regarding your current application(s) if you have not already and your applicant materials will be transferred to the new system on your behalf. In the coming weeks, you will receive outreach from PageUp, the new system, with information regarding next steps to complete your new user profile.
Our Mission
Oklahoma City University prepares all learners to Create, Lead, and Serve.
We provide a diverse, inclusive culture committed to producing graduates who think critically and innovatively, communicate effectively, and use their knowledge and talents to make a local and global impact.
CREATE
Oklahoma City University fosters a creative environment to work, learn, and live.
From the performing and fine arts to business, nursing and arts and sciences, we are a community of creativity. Faculty and staff help students pursue their passion and create their future.
LEAD
Leadership and learning are synonymous at OCU.
You will find alumni in leadership positions in corporate boardrooms, behind the pulpit, on Broadway, in hospitals and in businesses around the world. Faculty and staff lead by example, paving the way for students and alumni to become leaders in their own communities.
SERVE
Service learning and servant leadership are core components of the OCU experience.
Our campus community honors the United Methodist tradition of scholarship and service.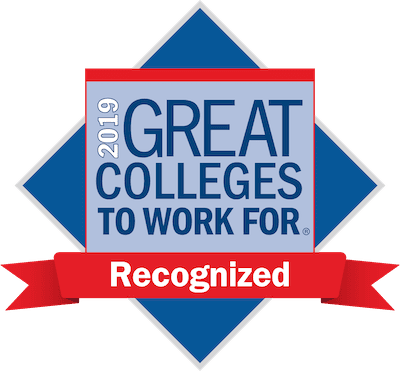 Officially a Great College to Work For
This year OCU once again earned a spot on The Chronicle for Higher Education's list of Great Colleges to Work For.
... For quite a while now
Since The Chronicle began publishing the rankings in 2008, OCU has appeared on the list eight times!
Job Openings
Temporarily unavailable, check back on Monday, February 13.