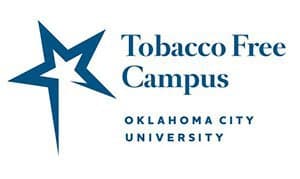 The OCU Community thanks you for respecting and observing a policy that will create a healthier learning and working environment.
Under the policy beginning May 18th 2008, and revised February 1, 2014 tobacco use will be prohibited both indoors and outdoors, including all common areas, building entrances, athletic fields, sidewalks, and parking lots.
In light of mounting research including the latest U.S. Surgeon-General's report, "The Health Consequences of Involuntary Exposure to Tobacco Smoke," which concludes that there is no risk-free level of exposure to secondhand smoke, it is time to take the next step, of making OCU completely tobacco-free.
The OCU Tobacco-Free Campus policy enables students, faculty, staff, and visitors to preserve their health by providing an environment where people can learn teach and work free from risks associated with tobacco use.
Everyone Can Benefit From a Tobacco-Free Environment

A tobacco-free environment will provide the following benefits to OCU students and the entire campus community.
Supports community efforts to reduce or eliminate tobacco use in public settings.
Eliminates second-hand smoke from around building entrances and sidewalks.
Eliminates litter from cigarette butts and other debris.
May encourage some tobacco users to stop a harmful habit.
Prepares OCU students to cope with future employment in tobacco-free environments.
Sets a positive example for high school students and young children who are often on campus.
Reduces risk of fires caused by cigarette smoking.
Supports the efforts of those trying to quit tobacco
Increase the likelihood that non-smoking individuals will remain non-smoking.
Campus Tobacco Policies and Enforcement
In keeping with Oklahoma City University's commitment to provide a safe and healthy academic and work environment, the University maintains a tobacco-free campus. This Policy applies to all property (both the interior and exterior of such property) owned, operated, or managed by the University, including all buildings, facilities, and grounds. Such premises include, but are not limited to, University housing (e.g., dormitories and apartments), athletic facilities, parking structures and lots, offices, classrooms, restrooms, hallways, stairwells, driveways, sidewalks, and lawns. This Policy also applies to vehicles owned or leased by the University, or under University control, as well as at any off-property worksite-sponsored meeting or event.
Policy: The University prohibits all tobacco use of any kind in accordance with this Policy. This prohibition includes smoking, carrying, or possessing a lighted tobacco product; using or administering any nasal or oral use of any tobacco product by chewing, dipping, vaping, or inhaling; littering the campus with remains of tobacco products; and any form of manufacturing, distributing, or consuming any tobacco product or simulated tobacco product. Prohibited tobacco products include, but are not limited to, cigars, cigarettes, e-cigarettes, cigarillos, pipes, hookahs, dip/chew, orbs, strips, sticks, snus, snuffs, electronic devices/vapors, smokeless pouches, all smokeless or loose-leaf tobacco, and any other nicotine delivery systems or products not expressly permitted below. The University further prohibits selling, advertising, or participating in services that promote tobacco use. Notwithstanding the preceding list of prohibited tobacco products, this Policy does not prohibit persons over the age of 18 from possessing or using the following prescription or over-the-counter nicotine replacement products:
Skin patches available as generics known as transdermal nicotine patches, as private-label products, and under the brand names Habitrol and Nicoderm;
Chewing gum available as a generic product known as nicotine gum, as private-label products, and under the brand name Nicorette;
Lozenges available as generics known as nicotine lozenges, as private-label products, and under the brand name Commit; and
Prescription-only nicotine replacement products available under the brand name Nicotrol both as a nasal spray and as an oral inhaler.
This Policy applies equally to all members of the University community: administrators, faculty, staff, trustees, students, visitors, contractors, vendors, and all those attending on-campus events. The Tobacco-Free Campus Policy does not supersede more restrictive policies that may be in force now or hereafter in compliance with federal, state or local laws and ordinances.
Effective Date: OCU became a tobacco free campus policy on May 18, 2008. Revisions to the policy were implemented on February 1, 2014. Background: The policy change was requested by students and employees, and has the support of Student Senate and the Deans' Council. It is also in line with the social principles of the United Methodist Church.
We cannot ignore the preponderance of evidence that tobacco use is a threat to everyone's health, smokers and non-smokers alike. We have visitors to campus, young and old, whose illnesses can be worsened by exposure to smoke. We have children participating in outreach programs and prospective students and parents visiting campus. They need to see healthy habits modeled.
Violations of this Policy will be dealt with in accordance with disciplinary procedures provided for in the respective Faculty, Staff, or Student Handbooks. In the absence of such procedures, University administrators and supervisors will be responsible for implementing appropriate measures to address specific issues that constitute violations of this Policy.
OCU has a responsibility and duty to promote health among students, employees, and visitors on our campus. In the face of overwhelmingly clear evidence of the dangers of tobacco use, adopting a tobacco-free policy on our campus demonstrates that OCU is a place where we value knowledge gained through study and where we support translating research into practice.