Jack Yates, Theatrical Design and Production
What are you doing now?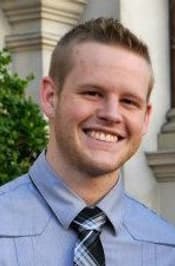 I am currently finishing up my second season as the Resident Scenic Designer at Theatre Memphis in Memphis, TN. Prior to working in Memphis, I worked in Kalamazoo, Michigan for three years as an intern/design associate for the Kalamazoo Civic Theatre.
Why did you choose to get your education from OCU
Fellow high school students who were interested in the OCU theatre program sparked my initial interest in OCU. After viewing a number of different technical theatre degrees from different universities around Texas and Oklahoma, OCU's tight-knit community and intimate classes really caught my interest. The OCU Design and Production staff is very talented and very eager to help students expand their skills and prepare them for real-world experiences by having the opportunity to be involved with dozens of different productions each semester.
What was your experience in the classroom and on campus?
OCU felt much more than just a school with classes and grades. The small campus and close student body really keeps you feeling welcome. I really enjoyed the close student/teacher relationships thanks to the small class sizes. Dozens of campus organizations are available and I enjoyed being a part of a few. A proud member of the Kappa Sigma Fraternity, I really felt at home with my brothers and fellow students. Though balancing the demands of my degree, fraternity, and other organizations proved difficult at times, it certainly taught me time management skills I otherwise may have missed out on.
Do you feel like OCU prepared you well for your career? Does anything you learned specifically stick out to you?
I feel fortunate to know that my time in the OCU School of Theatre definitely helped prepare me for my chosen career path. Having the opportunity to work as the Resident Scenic Designer for a great theatre would not have been possible without the training I received at OCU. The balance between classes and campus life was something to get used to, but with such a wide variety of courses to study I feel I received comprehensive education and had a blast doing it.