Kristen Bailey, RN-BSN, 2013
Where do you work now? What do you do there?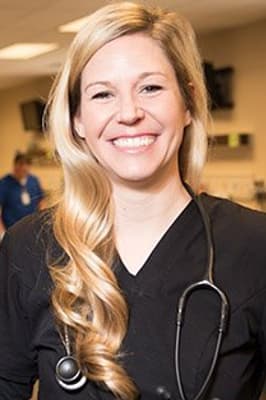 I work in inpatient oncology for Mercy Hospital in Oklahoma City. My position works with patients and families with long lengths of stay and complicated oncological diagnoses. I also do work for Walgreens Infusion as a home infusion nurse for patients who leave the hospital with long term IV antibiotic therapy or require regular outpatient infusions.
Why did you decide to pursue nursing at OCU?
I had a previous Bachelors of Art degree and was employed as a graphic designer for a small nurse practitioner run clinic outside of El Paso, Texas. As I got more involved in the business, and in medicine, I discovered that I had a heart for nursing, and that science came much easier with an actual patient in front of me. Science and math had never been my strong suit in school, but through my work in the clinic, I found that with a little bit of confidence, and the right learning atmosphere, I could excel. I made the decision to come back to Oklahoma and enter nursing school. OCU had all of the resources I needed to make my dream a reality, and to accomplish the task in a reasonable amount of time as a nontraditional student.
What was your experience in the classroom and on campus?
OCU provides top-notch facilities, technology, and staff, all of which facilitate an excellent environment for learning and discovery. All of the support staff I encountered were pleasant and helpful, and it was easy to find the help I needed, when I needed it.
Do you feel like OCU prepared you well for your career? Does anything you learned specifically stick out to you?
As a student and a new graduate, you feel incredibly unprepared for actual nursing, and it wasn't until I got out into the nursing world that I discovered just how well OCU had prepared made me. I had no difficulty completing my licensing exam, immediately got multiple job offers, and found myself to be among the most competent and prepared of the new nurses with whom I was orienting. We had excellent clinical experiences, and the NCLEX review we were given prior to graduation was extremely helpful.