Rick McKee, Music Composition, 2009
What are you doing now?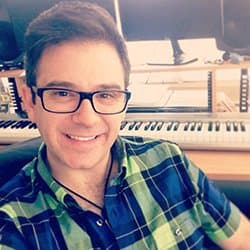 I am a music producer (composer, arranger, orchestrator, and studio singer) from Tulsa, but I currently live in Orlando. My works range from television specials to theme parks, firework shows, parades, commercials, jingles, ride soundtracks, cruise lines, as well as other forms of international venue and touring entertainment.
I have composed and arranged for Macy's, SeaWorld, Walt Disney World, Tokyo Disneyland, Tokyo DisneySea, Hong Kong Disneyland, Disney Live, Disney On Ice, Disney Cruise Line, Royal Caribbean Cruise Line, Norwegian Cruise Line, Nickelodeon, DreamWorks and a variety of other clients. Some notable performers who have recorded my music and arrangements include Whoopi Goldberg, Matthew Broderick, Ashley Tisdale, Mitchel Musso, Thomas Brodie-Sangster, Vincent Martella, the 'World Famous Disney Characters,' and the cast of 'Sesame Street' — Tony Award winners, Victoria Clark, and Brian Stokes Mitchell, Broadway stars, John Tartaglia, Norm Lewis, Liz Callaway, and Jonathan Freeman, as well as country music singer, Bryan White. I also served as the arranger on, both, an Emmy nominated song in 2009, and an Emmy Award winning song in 2011. His music can currently be found on over 30 Walt Disney Record releases.
Why did you choose to get your education from OCU?
I had met many musicians growing up who attended the school, so I had been told since I was very young that I should look in to it. Specifically, I knew of many great vocalists who had come from OCU, and at the time, I was considering double majoring in music theatre and music composition. I remember my first campus visit when I met Dr. Edward Knight (Professor of Music Composition). I knew after my meeting with him that this was a program of which I wanted to be a part of. It was very clear that he had created a program which allowed students to work together, support each other, and each have their own compositional voice. He wasn't creating formulaic writing machines (like many universities). It was clear that he was genuinely invested in my goals, was determined to help me get there and to go further.
What was your experience in the classroom and on campus?
I thoroughly enjoyed my time on campus and in the classroom. I had incredible (and crazy talented) friends who are still my close friends today. I also had great professors who were very supportive of my goals. It was definitely a big family. I miss them all very much.
Do you feel like OCU prepared you well for your career? Does anything you learned especially stick out to you?
I absolutely do. This is an interesting question, because I've asked it to many music students and graduates from other schools, and the common response is "no". I've realized that there is a distinct disconnect between a school "preparing you", and one taking initiative to prepare themselves. An institution can only give you tools for success. I believe you get out of college what you put in to it. Outside of one's studies, I think it's equally important to pave your own path, and create your own experience. This, combined with the tools you learn in the classroom, are what I believe truly prepares you to be as well rounded as possible. I had a plan going in to college, and was already working to create my own path. Dr. Knight recognized this when we met, and zeroed in on exactly what I needed to learn technically, and built his lessons around the path I was paving. He was there to help me grow in the ways I wanted and mentored me to push my own limits, and learn skills I didn't know that I could have.
One of the best things about the Bass School's composition program is how they allow their students the opportunity to have their music read and performed by the school orchestra. These opportunities are blind to seniority. If a freshman composition major has an orchestra piece they would like to have played, they can have that opportunity. This is something I'm realizing is almost completely unique to OCU. It is also invaluable. I cannot stress this enough. It's one of, if not the most important step to becoming prepared for real world opportunities. Having the chance to hear your work with live players in a non-threatening environment is essential. How else would one learn what works and doesn't work musically? It's much better to have that time to experiment and make mistakes in school, rather than making those mistakes on your client's watch in a half-million dollar orchestra session.
After graduating, I came into the world of studio singing, which is its own art form with its own rules, very different skills and techniques than music theatre or opera. I could never have had the stamina to sing eight-hour recording sessions without the skills I learned at OCU. I've recorded and sung on many different types of projects: jingles, parades, fireworks, rides, TV specials, live venue entertainment, cruise lines, etc. So, even though I didn't graduate as a vocal major, I'm very thankful that singing continues to be a big part of my life and career. Ever since I was a child, my superstars have been the brilliant people in the business we know as "studio musicians", so a great thrill of my life has been getting to know and work with them, as both, the composer or orchestrator on the other side of the glass, and as a fellow studio singer next to them at the microphone.