Ryan Beach, Music, 2010
What are you doing now?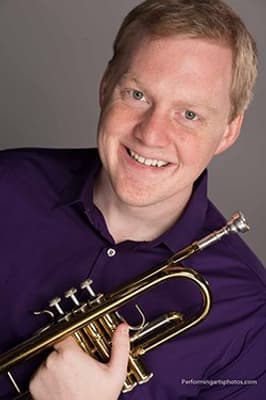 Principal trumpet of the Alabama Symphony
What was my experience in the classroom and on campus?
The professors in the music school in the musicology section were wonderful. Dr. Heine, Dr. Gavito, and Dr. Pritchett were the two teachers I was with the most – all very knowledgeable and also very invested. The applied instrument teachers were also quite instrumental in my development. They were great resources for me and they were generous with their time when I felt like I needed help with anything.
Do you feel like OCU prepared you well for your career? Does anything you learned specifically stick out to you?
OCU was a vital part of my development. My teachers were invested and interested in helping me branching out and be independent. The orchestra played a huge repertoire, which was great for my development because it forced me to learn how to manage all things related to performing those pieces. There were tons of opportunities to perform: orchestra, wind ensemble, jazz ensemble, brass ensemble, OCU and Blackwelder quintets, and any other chamber groups we may have put together throughout the years. Immediately following graduation from OCU I went to Northwestern University, which at that time was arguably the best trumpet studio in the country. I was one of the top players there immediately, which allowed me to take advantage of some great opportunities that wouldn't have been possible without the help of everyone who took an interest in my education at OCU.