Sasha Hutchings, Dance Performance, 2011
Since this interview, Sasha Hutchings has appeared in numerous roles including the 2020 film production of "Hamilton."
What are you doing now?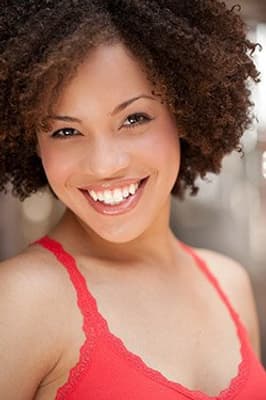 I am currently performing in "Hamilton," a new musical by Lin Manuel Miranda.
Why did you choose to get your education from OCU?
I was encouraged to audition for OCU by the director of my high school dance studio, Dance Dynamics in Macon, GA. She had also sent one of her previous students to OCU. She spoke so highly of the dance program at OCU. During my audition for the Ann Lacy School of American Dance and Entertainment, I realized that the dance program at OCU is unique in its structure and focus. For one, the integration and priority given to the dance form of tap is unparalleled. The school also encourages its dance majors to not only develop their skill and creativity as artists, but also focuses on imparting the knowledge and industry savvy needed to be successful in the actual business of entertainment.
What was your experience in the classroom and on campus?
When I first decided to enroll at OCU I thought that I would miss out on the quintessential huge football university experience. However, OCU's intimate campus provided a sense of familiarity and focus. Smaller class sizes promoted dialogue and the exchange of ideas between students and teachers. Dr. Cobb's classroom was always my favorite. He managed to connect history with the social and economic landscape of the world today, and from there he encouraged his students to acknowledge how our world today inevitably affects and defines the world of tomorrow.
Do you feel like OCU prepared you well for your career? Does anything you learned specifically stick out to you?
I acquired tremendous performance ability and education during my time at OCU, but the most valuable skill I gained was the ability to learn, adapt, and create opportunities for myself to excel. Jo Rowan incorporates a quote by the Roman philosopher Seneca into the curriculum and culture of the dance program: "Luck is what happens when preparation meets opportunity." I don't know if there is a career where that rings truer than being a performer in the entertainment industry, and it is a teaching that I hold dear. As a performer there are many factors over which I have no control. However, I can always be responsible for my own preparation so that when the challenge of a new opportunity for success arrives, I am more than ready to meet that challenge.