Tessa Wright, Religious Education, 2012
What are you doing now?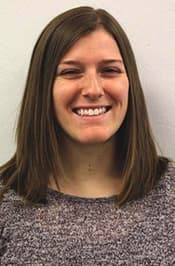 I am the Director of Children's Ministry at Choctaw United Methodist Church (Choctaw, OK).
Why did you choose to get your education from OCU?
OCU offers a remarkable program for persons seeking a degree in religion. The financial aid within the religion department was a definite plus!
What was your experience in the classroom and on campus?
I truly enjoyed my time at OCU. I was grateful for the small class sizes as they enabled more student-student and student-teacher interaction, which I believe positively aided in my learning. The smaller size of the university also allowed me to see familiar faces everywhere I went on campus, which made it feel like home.
Do you feel like OCU prepared you well for your career? Does anything you learned specifically stick out to you?
The religion classes were designed so that the papers and projects we completed could be used in real-life situations, which is extremely helpful now that I am working in the field.