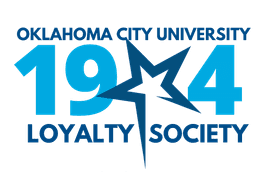 The 1904 Loyalty Society recognizes current donors who have given to Oklahoma City University for three or more consecutive years. Members are among a special group of more than 600 leaders whose annual gifts continue to create excellence and transform lives. Some of these leaders have been giving every year for more than 40 years!
1904 Loyalty Society members have a powerful impact on the success of OCU. Collectively, their annual gifts influence the institution's ability to meet emerging needs and create new opportunities for students. Annual gifts serve as the foundation of OCU's growth.
Thank you for your ongoing dedication and commitment to our beloved university.
Donors qualify for membership upon their third consecutive fiscal year of making a gift. Gifts of any amount to any area of the university are honored. OCU's fiscal year runs July 1 – June 30. For any questions regarding your giving history, please call the Office of Advancement at 405-208-7000.