Undergraduate Research in Biology
Undergraduate Research in the biological sciences is an enriching and rewarding experience, as well as essential preparation for graduate and professional schools (e.g. medicine, dentistry, etc.). At Oklahoma City University, over 80% of our science students are accepted into their preferred graduate programs. Our students have the opportunity to pursue research with one or more of our faculty, representing diverse research disciplines ranging from primate behavior to neuroscience to biodiversity inventory. Research is often collaborative and cross-disciplinary, combining field studies with advanced molecular biology, for example. Our students are strongly encouraged to present their research findings at local, regional, and national meetings; and publication in scientific journals.
Additionally, several students have participated in off-campus summer research positions at places ranging from the Oklahoma Medical Research Foundation, Harvard University, and the California Academy of Sciences. Visit the Internships and External Research Opportunities page for more information.
Co-curricular research exists through several courses, especially field courses such as Ecology of Greater Yellowstone, Glacial Ecology of Alaska, Gulf Coast Ecology, and Tropical Biology of Costa Rica. In these field intensive courses, students are offered numerous unique research opportunities in advanced field studies and techniques.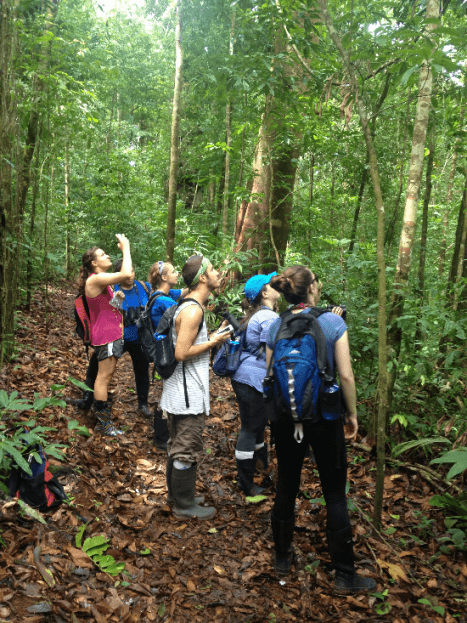 OCU Biology Research Mentors
Dr. Tony Stancampiano, Ph.D. His research focuses on the ecology of homeothermic vertebrates; more specifically, how do these animals perceive their environment at the local and landscape scale. Under-graduate researchers are currently investigating the habitat affinities of small mammals and preferred landscape features of secondary cavity nesting birds, while others are assessing nest composition and surveying opportunistic nest inhabitants and also establishing molecular markers for two sympatric species of mice in an effort to determine if hybridization occurs and to develop more accurate field identification.
Dr. Laurie Kauffman, Ph.D. is interested in animal behavior. Her current research focuses on behavior of captive animals in different contexts. Recent research projects include orangutan activity budget and social behavior at the Oklahoma City Zoo, river otter space usage at the Oklahoma City Zoo, and enclosure usage in long-tailed macaque monkeys at Oklahoma Primate Sanctuary. The uniting thread of Dr. Kauffman's research is to investigate how species behave in captivity as compared to the wild, and to understand adjustments that can be made for better care of animals in zoo and sanctuary settings.
Dr. Adam Ryburn, Ph.D. A plant systematist by training, the focus of his research is the classification and identification of native plants of Oklahoma. He works with other state botanists on the Flora of Oklahoma Project, constructing the keys and descriptions of the vascular flora of the state.

You Qualify for Financial Aid
If you have a 3.0 GPA or higher, you may qualify for Academic Scholarships from $8,000–$13,000 per year.