Undergraduate Degrees in Education
Certification areas
| | | |
| --- | --- | --- |
| Current Program | OEQA Recognition Status | Date of Next Review |
| Art Education | Approved | Spring 2023 |
| Early Childhood Education | Dropped | |
| Elementary Education | Dropped | |
| English Education | Recognized | Spring 2023 |
| Foreign Language Education | Dropped | |
| Instrumental Music Education | Recognized | Spring 2023 |
| Mathematics Education | Approved with Conditions | Spring 2024 |
| Science Education | Recognized | Spring 2023 |
| Social Studies Education | Recognized | Spring 2023 |
| Speech/Drama/Debate Educ. | Dropped | |
| Vocal Music Education | Recognized | Spring 2023 |
Contact person for each department
Conceptual Framework
The Personalized Professional Teacher Education model was created to illustrate the concept of the process that moves the individual through levels of learning and personal awareness of their roles as individual, teacher and leader.
We view learning as an active, personal and cognitive process. This model illustrates the faculty commitment to responsive, individualized teaching. Candidates are actively involved in their own learning and continually assess and evaluate their own progress as they pursue their individual teaching goals. They acquire knowledge, skills and experience while enhancing and refining the dispositions deemed appropriate for professional teachers as they develop their potential to become empowered individuals and educational leaders.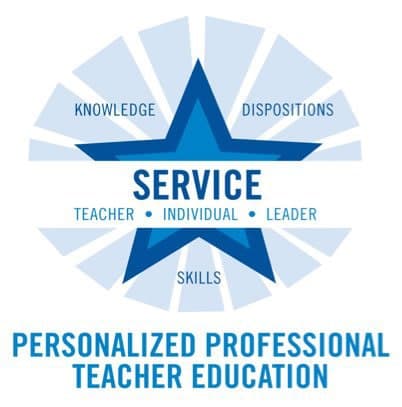 How to submit your comments to CAEP
We invite you to submit written testimony to:

CAEP
1140 19th Street NW, Suite 400
Washington, DC 20036
Or by email to: [email protected]
Such comments must be within the specified period and based on the core tenets of CAEP accreditation standards of excellence, which recognize that:
In CAEP's performance-based system, accreditation is based on evidence that demonstrates that teacher candidates know the subject matter and can teach it effectively so that students learn. In the CAEP system, EPPs must prove that candidates can connect theory to practice and be effective in an actual P-12 classroom.
A professional education provider that is accredited by CAEP is expected to be involved in ongoing planning and evaluation; engaged in continuous assessment and development; ensure that faculty and programs reflect new knowledge, practice, and technologies; and be involved in continuous development in response to the evolving world of education and educational reform.
Comments must address substantive matters related to the quality of professional education programs offered, and should specify the respondent's relationship, if any, to the institution (i.e., graduate, present or former faculty member, employer of graduates). Copies of all correspondence received will be sent to the university for comment prior to the review. No anonymous testimony will be considered.
You Qualify for Financial Aid
If you have a 3.0 GPA or higher, you may qualify for Academic Scholarships from $8,000–$13,000 per year.