OCU Sports Performance Program
In conjunction with the Oklahoma City University Department of Exercise Sport Science, the OCU Sports Performance program is open and ready to serve athletes ages 12 and older from the Oklahoma City metro and surrounding areas. Employing the latest in testing and training techniques, the OCU Sports Performance program provides training programs and performance evaluations for athletes from every sport and level of competition.
Sports Performance evaluation services include: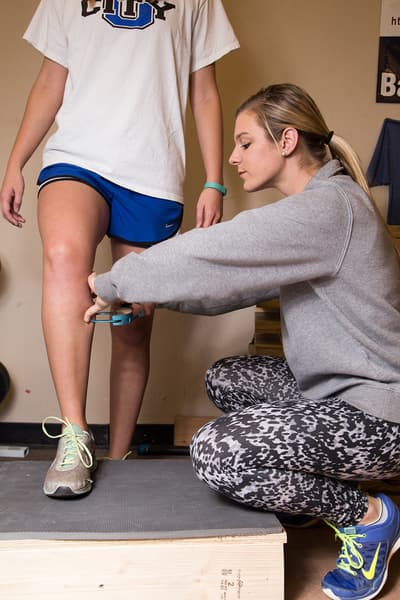 Body Composition testing via Skinfolds: $10
VO2max testing: $100
Lactate Threshold testing (your bike, our bike or run): $100
Lower body power evaluation (vertical jump, etc): email for rates
Movement screenings: $15
Gait Analysis: email for rates
Strength Testing: email for rates
Wellness services are also available an include:
Cholesterol (Total, HDL, LDL), blood lipid and glucose testing: $40
General fitness: blood pressure, muscle fitness, flexibility: email for rates
*University employees receive a discount on all services
All evaluations include an explanation of results and how results can be used for training goals and programs.
In addition to our evaluation services we offer individual and group training sessions with a training program specific to the needs of the participating athlete. We are also available for consulting for teams or implementing and leading team training sessions at OCU or off campus facilities when needed.
Contact Dr. Jason Miller at [email protected] for a free consultation session on what OCU Sports Performance can do for you or an athlete you think could benefit from sports performance training.
Training sessions and evaluations are reasonably priced, team sessions are discounted. There are no contracts but we are only looking for athletes willing and able to put in the consistent training time needed for superior results.
Unless otherwise arranged, training sessions will take place in the Human Performance Center on the campus of Oklahoma City University. We look forward to hearing from you.