School of Visual Arts — Nona Jean Hulsey Art Gallery
The Nona Jean Hulsey Art Gallery, located in the Norick Art Center on the Oklahoma City University Campus, is the focus of the university's participation in the visual arts. The gallery provides a contemporary exhibition space for significant and challenging exhibitions by local and national artists and art organizations. The Hulsey Gallery affords the School of Visual Arts student educational opportunities related to collection management and exhibition of art in a professional gallery.
The mission of the Nona Jean Hulsey Art Gallery is to promote the understanding of and extend the audience for contemporary art, and to present exhibitions that inform, inspire and challenge the public, particularly students of Oklahoma City University. The Hulsey Art Gallery is an integral part of the School of Visual Arts, and it is used daily by visitors, students and faculty.
Art-o-Mat - Clark Whittington
Jan. 9 - March 3, 2023
Artist talk at 4:30 p.m. Feb. 23
Featuring art-making stations and approximately 300 works from the Art-o-Mat/Artists in Cellophane repertoire on the gallery walls.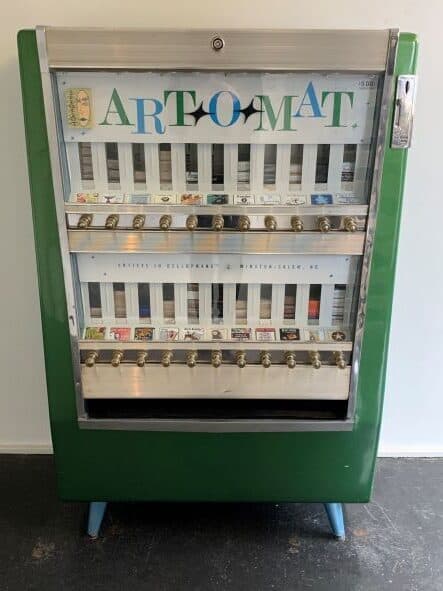 Artist Clark Whittington installed his art in the summer of 1997 at a local cafe in Winston-Salem, NC. Alongside paintings, he used a recently-retired cigarette machine to create the first Art-o-Mat, an original art vending machine, to sell his black and white photographs mounted on blocks for $1 each.
Positive engagement led to the machine staying longer than the show and Artists in Cellophane artist collective was formed to keep the project running. Now, as the sponsoring organization of more than 100 active machines in various locations throughout the world, the mission of AIC is to encourage art consumption by the innovative combination of art and commerce. AIC believes that art should be progressive, yet personal and approachable.