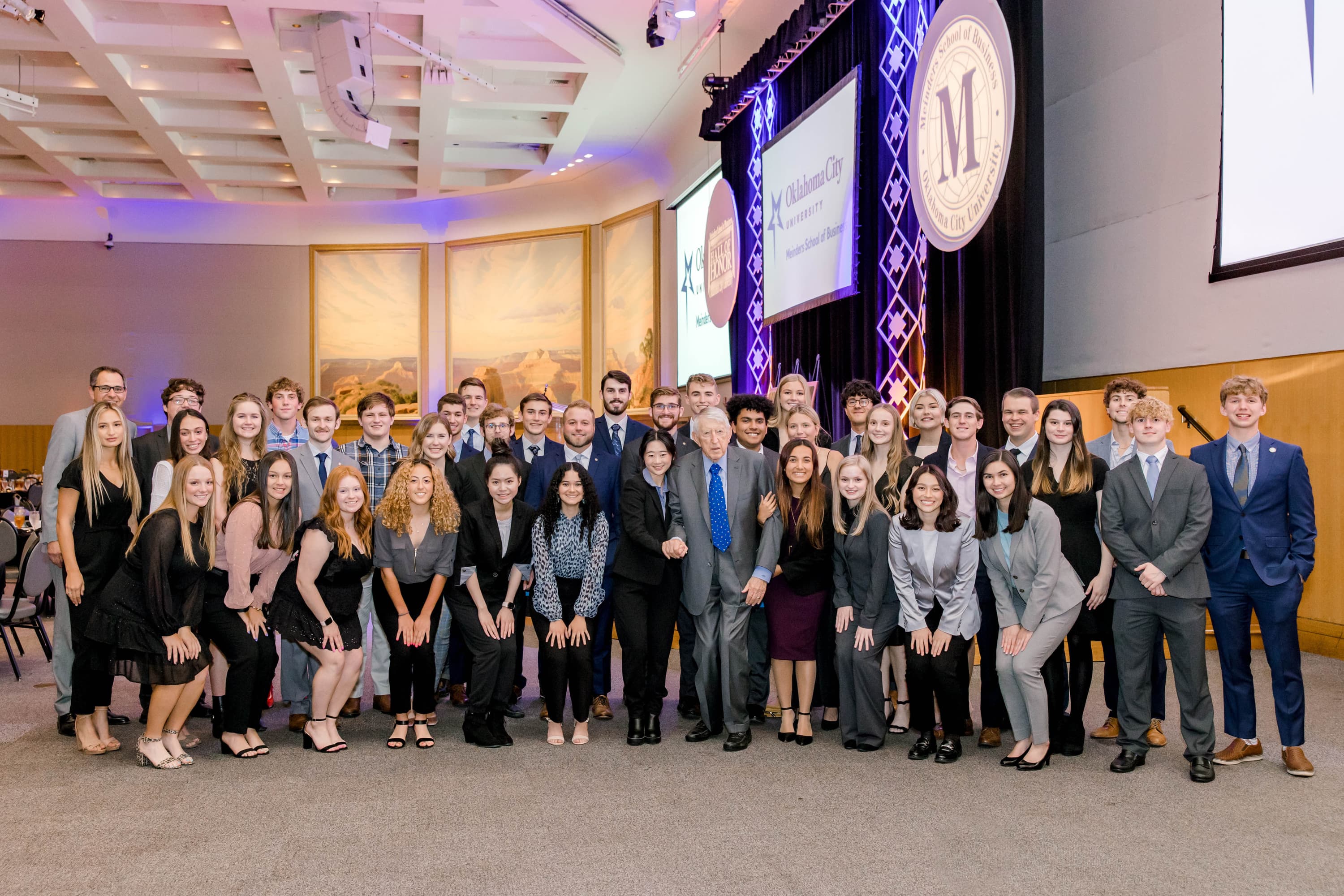 Meinders Business Leadership Fellows Program
Apply to receive up to $23,000 in Annual scholarships!
Each year, high-achieving first-time freshman are selected to join the Meinders Business Leadership Fellows, a prestigious opportunity to join a network of peers, making a positive impact on the OCU campus, the business school and the community.

Students take part in an innovative program of co-curricular learning and personal development opportunities, enhancing their collegiate experience and opening doors to opportunities after graduation.

Meinders Fellows are an active group on campus, with regularly held meetings, social gatherings and events hosted by the business school.

Priority deadline:
Dec. 15

Scholarship opportunities
A GPA of 3.8 is rewarded $23,000 ($13,000 Academic Merit Scholarship + $10,000 Meinders Fellows).
A GPA of 3.4 to 3.79 is rewarded $20,500 ($10,500 Academic Merit Scholarship + $10,000 Meinders Fellows).
The ACT is not required to apply. Your application for admission to Oklahoma City University is the first step to qualify for the Meinders Business Leadership Fellows program.
Application requirements
Applicants are required to interview with Meinders staff and faculty. Priority will be given to students who apply by the Dec. 15 scholarship deadline.
Applications are evaluated on an individual basis considering the following factors:
Academic background
Extra-curricular activities
Letters of recommendation
Personal statement
Qualifications
First-time, full-time freshman (domestic/international) directly matriculating from high school.
Domestic students must fill out the FAFSA.
Cumulative high school GPA ≥ 3.40.
Business majors only.
Four-year (8 semesters), BBA graduation is expected.
Renewable for four academic years with a 3.40 cumulative GPA.
Co-curricular & professional development opportunities
Through a collaboration with the Oklahoma City Thunder, undergraduate business students engage in high-level experiential touchpoints with Thunder executives.
Meinders business students have enhanced opportunities to comprehend and master a subject. From business plan and ethics competitions to internships and events with local business and non-profit leaders, students have access to some of the best active learning experiences in Oklahoma.
Earn a Bloomberg Certification in our Bloomberg Finance Lab. This financial certification is one of the most powerful career-building tools in the world.
Students can apply to be an Institute Scholar in the Steven C. Agee Economic Research & Policy Institute (ERPI) and be directly involved in applied economic research, contributing intellectual assets to the local community and the State of Oklahoma.
Gain valuable investment insight under professor mentorship though the Meinders Investment Club.
Meinders Fellows are included in opportunities to network with business leaders at Meinders School of Business supported events such as Hall of Honor and Women in Leadership.