Important Dates
Fall Move-Out
Dec 11: Late Stay request submission deadline at 5:00 pm

Dec 17: Residence Halls and Apartments Close at 5:00 pm
Spring Move-Out
April 30: Late Stay request submission deadline at 5:00 pm

May 8: Residence Halls and Apartments Close at 12:00 pm
Checkout Policy
The University Housing Contract ends 24 hours after your last final examination. Please make plans to move within this 24-hour time frame.

Checkout Process
All checkouts will need to be done by scheduling time with your Resident Assistant. During that time your RA will meet you at your room and inspect the space based on the room inventory form you turned in at the beginning of the year. Once everything has been inspected the RA will take your key.
Students who do not schedule at the time and check out with an RA will be fined for an improper checkout which is $200.

How to check out
Clean the entirety of your assigned space including common spaces. Checklists will be sent out before Move-out to help prepare students.

Pick up an express check-out envelope from your residential community.

Completely fill out and sign all the express check-out forms.

Place forms and keys in an envelope and seal it

Place the sealed envelope in the drop bins located where you picked up your forms.

There will be signs for each check out bin at the following locations:

Banning Hall, Methodist Hall, and Walker Hall – Front desk

Cokesbury Apartments – Clubhouse Housing Office
Late Checkout
If you check out after 5:00 pm on the day the residence halls or apartments are closing, you are subject to a $25 per hour improper checkout fee. Slow elevators, traffic, and cart shortages are not valid reasons to waive this charge.
Extended Stay Request
If you need to check out after 5 p.m. on the day the Residence Halls or apartments are closing, you must submit an Extended Stay Request by the above-listed deadline, and receive prior written permission from your Residence Life Coordinator. Your Residence Life Coordinator will notify you of your Extended Stay approval or denial via email. If approved for an extended stay the charge will be $15 per night.

Room Inspection and Damages
Room Inspections
When you check out, your room should be in the condition it was at Move-In. Housing and Residence Life staff will inspect your room within a week after closing. You will be billed for any discrepancies of the condition of your room at the time of inspection as compared to its initial condition.

If you are billed for damage, you will receive an email by the end of May. Charges will be applied to your student account.
Damage Billing and Common Charges
Below are some of the damages residents are most commonly billed for:
Rooms, bathrooms, and appliances were left dirty, including leaving trash.

Personal items were left and abandoned in the room.

Missing or damaged room furniture. If something is damaged, submit a Work Order. If you are responsible for the damage, you may be charged.

Decals/stickers/tape/putty/marks left on windows, walls, doors, and furniture.

3M strips, tacks, putty, stickers, and other items left on walls, ceilings, and doors.

Lost room or mail keys

Smoke detector is not connected or functioning. If this is the case, submit a Work Order immediately.

Improper checkout
Abandoned Property
Personal belongings left in your room after you have vacated are labeled as abandoned property. Abandoned items are immediately discarded and not stored by OCU Housing and Residence Life per the Housing Contract and University Policy.

Cleaning
Cleaning the space upon move-out is the responsibility of everyone in the room or suite. To leave your room in the best condition possible, take the following steps:
Remove all personal belongings.

Vacuum and sweep floors. Dust wall trim, baseboards, and furniture pieces. Use a wet mop on hard surfaces.

Remove scuff marks, spots, and spills.

Clean any dirt, hair, soap film, or stains in the sink.

Scrub sink, tub, toilet, and shower with disinfectant.

Clean mirrors with glass cleaner.

Wipeout all cabinets and vanities

Remove tape, adhesives, 3M strips, stickers, posters, and marks from walls.

Wipe down all shelves, surfaces, and drawers, as well as window sills and blinds.

Remove all garbage, and clean trash receptacles.

Remove all food from the refrigerator and freezer.

Clean appliances such as refrigerators, ovens, and stovetops inside and out.
Mail Forwarding
Use of the school's address is reserved for those students living on campus. When you move off-campus you must notify anyone who might have your campus address. Because we are a business address you may not use a Change-Of-Address mail forwarding order with the USPS. Please provide your forwarding information to the Campus Mail Center and we will forward any first-class mail for up to one year.
Summer Storage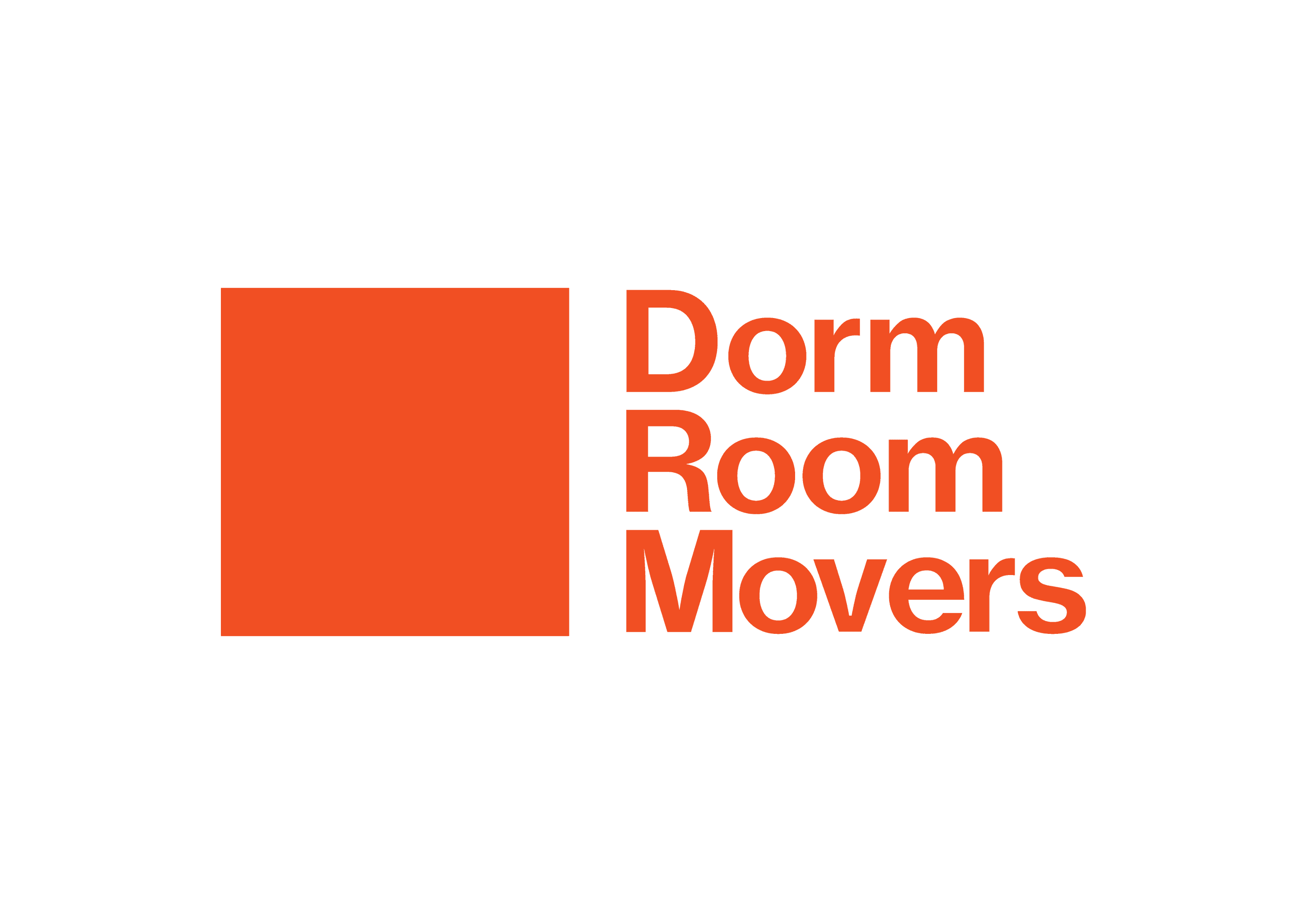 Move-out day will be here before you know it. Our official storage provider, Dorm Room Movers can help you with your stuff this summer so you can focus on what really matters, college!

This is how easy it is: They send you boxes and tape. You pack - that's it. Their movers will pick up your items, store them while you're away, and deliver everything back to you when you return! Dorm Room Movers can also ship boxes home or wherever you need them.

Register now and join over 60,000 students that have made life easier for themselves and their parents by leaving storage & shipping to Dorm Room Movers!

No stress because:
They send you boxes and tape to pack.
Picked-up and delivered by professional movers.
$100 coverage per box or unboxed item.
Climate-protected storage and 24/7 security.
BBB A+ accredited.
How it works: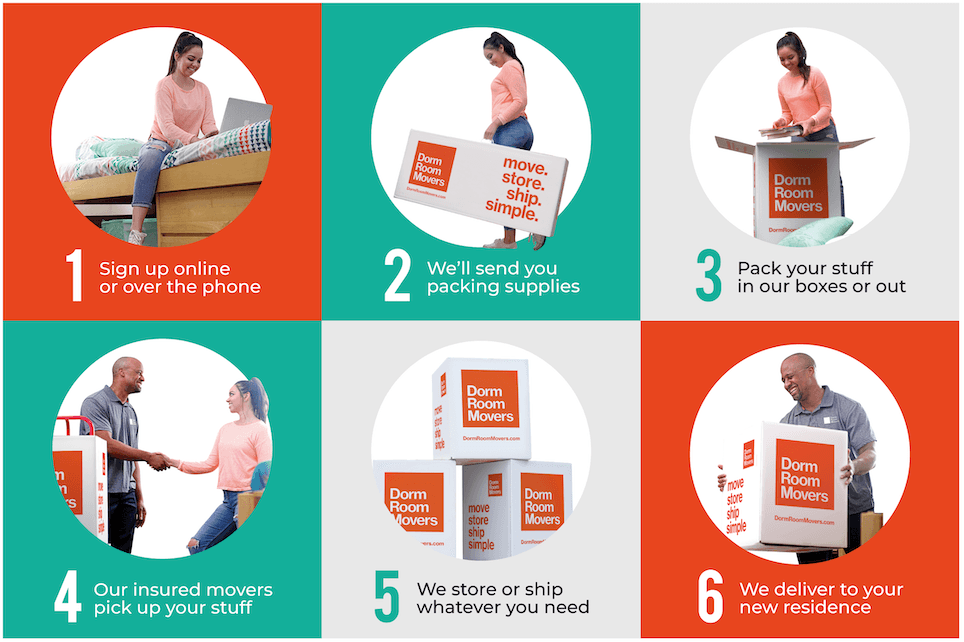 Have questions? Learn more, text (856) 369-3676 or call (888) 769-3676

MicroFridge Rental
Students who rented a Micro-Fridge from USS will need to follow the below instructions to prepare for pick up before they move out. For more information please see the USS Website.
Fridges and Microwaves will need to be cleaned and defrosted. Please allow the unit a couple of days to fully defrost and dry up before placing it outside of your room. We do not want any mold growing inside the units.

Units will need to be left OUTSIDE of the rooms before departure.

If the unit is not cleaned, there will be a $25.00 cleaning fee

USS will be picking up units AFTER the University closes, there is no need to schedule a pickup date with us.