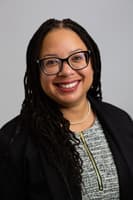 Greetings, Stars!

I am excited to welcome you to Oklahoma City University! Our office's aim is to shed light on a range of topics and experiences that lend to us collectively expanding our perspectives.
On June 1, 2020, I started what I knew would be an exciting and important journey to build a new office and team. While still in these early stages of creation, I am encouraged by the efforts made by so many in our community to use our core values as a foundation for their work, which, of course, includes diversity.

As I wrap up my first full academic year in this important role and reflect on this semester in particular, I am reminded that our community is undergoing meaningful and positive culture shifts already. For example, many are engaging deeply around bias and how it influences their day-to-day lives; some are intentionally using their privilege to advance change even when it feels difficult; and students are seeking opportunities to learn with the hope of making positive changes in their organizations. Engaging in any efforts that are diversity-, equity-, inclusion-, and justice-related requires unwavering commitment and to those of you already deep in that commitment, I thank you. The work we need and get to do together to create a more inclusive, just, diverse, and equitable community is expansive and you are key to the changes to come. Your openness and commitment are integral to how our university can shine even brighter.
The conversations I've had with students, staff, faculty, and alumni have been fruitful in so many ways and I am honored to be learning more about you and our community. The conversations you have with me are enlightening and I appreciate the trust you've instilled in me. I invite you to continue to share what your experiences, needs, fears, and hopes! In the meantime, it is my sincerest hope you are taking care of yourself in the best ways possible, learning from each other, and celebrating the good work you are doing on a regular basis.

Writer and activist Audre Lorde says that "when we speak, we are afraid our words will not be heard nor welcomed, but when we are silent we are still afraid, so it is better to speak."

Shining Light,