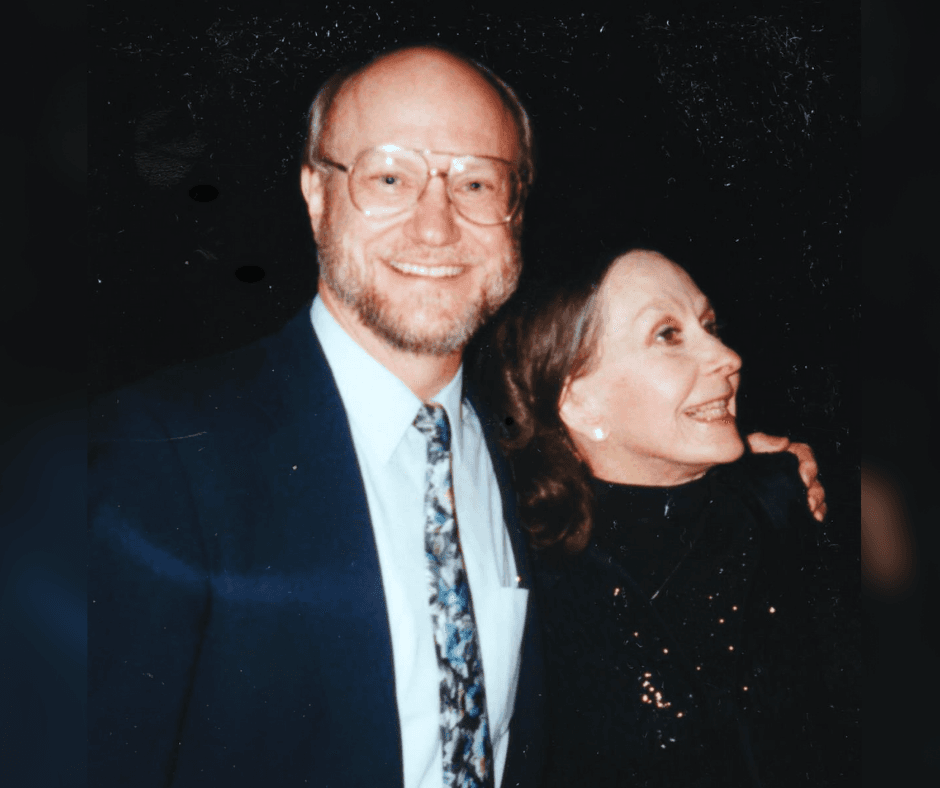 The end of an era here at OCU. Longtime dance school Dean John Bedford and dance director and program founder Jo Rowan have announced they will retire from the university on June 30, 2022 following tenures that have spanned more than 40 years. OCU President Kenneth Evans shared the following message with the campus community:

It goes without saying that the impact John and Jo have had during this time has been substantial. Perhaps the best way to quantify that impact is to look at the number of students who have gone on to successful careers in the dance and entertainment industries: OCU dance graduates have performed in more than 100 Broadway musicals. More than 50 have become Rockettes or Radio City song and dance ensemble members. Scores more have performed in national tours of musicals, on major cruise lines or at prominent theme parks.

Other graduates have taken what they learned under the tutelage of John and Jo and went on to teach future generations of dancers in studios and academies around the country, extending the reach of OCU's dance network like a far-reaching family tree.

Along the way, the couple built OCU's dance school into what many regard as the nation's preeminent program for dance education and professional preparation. Their decision to make OCU a destination not only for ballet, but also for tap, jazz and musical theatre dance, put our university on a pedestal in the dance world. Their focus on arts management in both the commercial and non-profit sectors has enabled OCU graduates to find work in all areas of the arts – from the stage to the boardroom.

John and Jo certainly will leave big shoes to fill. Taking over administration of the dance school on an interim basis is Associate Dean Melanie Shelley. Melanie began as interim dean on July 1. She will work closely with John and Jo to ensure a smooth transition and a continuation of the excellence that we have come to expect from our dance school.

That excellence, of course, is due to the dedication and efforts of John and Jo, as well as numerous dedicated faculty, staff, students and alumni over many years.

Please join me in thanking John and Jo for their contribution to our university and for their contribution to the arts in our city, state and country.

Lastly, join me also in wishing them all the best in a well-earned retirement. Thank you again, John and Jo, for all you have done for OCU.

Thank you Dean Bedford and Jo, from everyone in the OCU family.
John Bedford

Founding Dean

John Bedford John Bedford, Dean of the Ann Lacy School of American Dance and Entertainment, is producer of The American Spirit Dance Company and all dance performing activities at Oklahoma City University. He has an extensive background in all areas of arts management having served as orchestra manager; tour manager and director of audience development for the Baltimore Symphony Orchestra; general manager of Maryland Ballet and Dallas Ballet; business manager of Light Opera of Manhattan in New York City (off-Broadway credit); and deputy director and acting executive director of the Maryland State Arts Council. He founded Ballet-Under-The-Stars in Dallas, Texas, and with Jo Rowan, wrote the plan which led the Oklahoma City University dance and arts management programs to international recognition and the recent ranking of #1 BFA-Dance program in the nation by OnStage Media. He leads the management team for The American Spirit Dance Company's international goodwill and domestic tours. Under his management and guidance, The American Spirit Dance Company has performed for thousands of people in Malaysia, Singapore, Taiwan, and China. Overseas performances have helped to raise funds for relief of victims of natural disasters, for equipping cardiovascular surgical centers, for providing care and services for the physically disabled and people with neurological diseases, and for providing scholarships for law students. Bedford has arranged and managed tours within the United States to Maryland, Delaware, Pennsylvania, Texas, New York, Florida, Tennessee, New Mexico, Missouri, Illinois, Arkansas, and throughout Oklahoma. He also oversaw concerts by the Baltimore Symphony at Carnegie Hall and the John F. Kennedy Center. He is the founder of arts management programs at Oklahoma City University and created and taught courses in contracts and management for performers, performing arts tour management, management of non-profit performing arts organizations, presenting and sponsoring performances, orchestra management, and dance company management. Additionally, Bedford designed the curricula for the dance management and entertainment business degree programs. Through a series of Dean's Invitation Arts Management Tours, he has arranged for top arts management students to meet with leaders of London Symphony Orchestra, Birmingham (England) City Symphony Orchestra, Royal Shakespeare Company, Really Useful Group (Andrew Lloyd Webber), Royal Ballet, Birmingham Royal Ballet, Birmingham DanceXchange, Arts Council of England, Royal Opera House at Covent Garden, China National Symphony Orchestra, China National Children's Theatre, China National Ballet, Beijing Academy of Dance, and other world-class arts organizations. He holds degrees in drama, business administration, and management; studied French horn at Juilliard School of Music; and was a member of the prestigious Congregation-of-the-Arts at Dartmouth College. Bedford has performed as an actor in Actors' Equity productions of Three Sisters, Right You Are If You Think You Are, Life With Mother, and Androcles and the Lion. In addition, he has served as production stage manager for over 16 dramatic and musical productions and on the technical staff for 13 Equity musicals. In 2000, the MalaysianAmerican Society selected Bedford for its Most Distinguished Fellow Award for service to the people of Malaysia through dance and the performing arts. In 2001, he received the Tap Preservation Award from the St. Louis Tap Festival and the Robert L. Reed Tap Heritage Institute. In 2005, Bedford was inducted into the Oklahoma Higher Education Hall of Fame. In 2006, Bedford received the prestigious Flo-Bert Award, the "Tony of Tap" in New York City, and a proclamation from the president of the Borough of Manhattan for contributing "significantly to the cultural life of Manhattan and all of New York City." In 2008, Bedford received in New York a coveted "Traditions in Tap Award

Jo Rowan

Founding Dance Chair

Jo Rowan, director, and founder of The American Spirit Dance Company, is a nationally known master ballet teacher and performer and is professor of dance and chairman of the Dance Department within Oklahoma City University's Ann Lacy School of American Dance and Entertainment. Rowan, who was trained at Balanchine's School of American Ballet New York City and the Bolshoi Ballet in Moscow, holds degrees in design and dance from University of Cincinnati and has performed with Cincinnati Ballet, Dallas Ballet, Garden State Ballet, Metropolitan Opera Ballet, Dallas Opera, Philadelphia Opera, Tulsa Opera, Cincinnati Opera, and as a soloist at Radio City Music Hall. She has been a guest artist with the Baltimore Symphony, Kansas City Philharmonic, and Cincinnati Symphony orchestras. A member of Actors' Equity Association, Rowan has appeared in more than 60 musicals. She has performed in New York City, as well as at Actors Theatre in Louisville, Maine State Theatre, Playhouse in the Park, Kansas City Civic Center, and Kansas City Starlight Theatre, to name a few. She has also appeared in numerous television commercials and was a regular on the PBS TV show, Consumer Survival Kit. Rowan performed at Lyric Theatre in Grand Hotel as the ballerina Grushinskaya and recently choreographed the Dream Ballet in Lyric's production of Oklahoma!. She has also produced her own children's show, which toured throughout the northeastern United States. Rowan has taken The American Spirit Dance Company on tour in the United States as well as to Taiwan, Malaysia, Singapore, and China. Rowan has created dance instruction records, tapes, CDs, and videos on the Hoctor, Stepping Tones and Statler labels. She was the chief researcher for How To Make It In Musicals, Michael Allen's authoritative book on developing a successful career as a musical theatre performer. Formerly ballet mistress of Dallas Ballet, Rowan has taught for all major dance organizations in the United States and has been invited to serve as an Artist-in-Residence for the state of Oklahoma. She has conducted master classes at the St. Louis and Detroit Tap Festivals, has toured America as the ballerina with Dance Olympus, has taught for Dance America and Boston Ballet, and has adjudicated for the North American Ballet Festival Competition in Boston and the State of Tennessee's Individual Artist Fellowship Award in Dance-Choreography. In 2008, Rowan received the Oklahoma Chapter of the Association of Women in Communications' Byliner Award in the arts category. She has been featured on the cover of Oklahoma Woman Magazine, and was honored by Oklahoma Hospitality Club as a "Lady in the News." In 2010 Oklahoma Magazine named Rowan one of the "7 Incredible Women of Oklahoma." Rowan received the St. Louis Tap Festival's 2001 Preservationist Award and served as a spokesperson for National Dance Week for 2002, 2003, and 2004, alongside Ben Vereen, Fayard Nickolas, and Tommy Tune. Rowan was on the Board of Directors for the 2011 National Dance Week Committee. Rowan received Dance Teacher magazine's National Dance Teacher of the Year in Higher Education Award and in 2004 was inducted into the Oklahoma Higher Education Hall of Fame. In 2006, Rowan received the prestigious Flo-Bert Award, the "Tony of Tap," in New York City, and the National Dance Masters of America President's Award, presented in Las Vegas. She also received a proclamation from the president of the Borough of Manhattan for contributing "significantly to the cultural life of Manhattan and all of New York City." In 2008, she received a coveted "Traditions in Tap Award" in New York City. In 2009, the National Association of Dance and Affiliated Artists presented her with a Lifetime Achievement Award. The Association of Dance Conventions and Competitions presented Rowan with its 2016 Lifetime Achievement Award. The Annie Oakley Society of the National Cowboy & Western Heritage Museum presented Rowan with its 2016 Lifetime Achievement Award. OKCFriday included Rowan in its 2016 listing of the five most powerful women in the arts in Oklahoma and its 2017 listing of the 100 most powerful women in Oklahoma. In both 2018, 2019 and 2020 Rowan was selected as one of the Journal Record's 50 Making a Difference during "The Woman of the Year" event. In April of this year, Rowan received The Governor's Arts Award in recognition of her longtime leadership and significant contributions to the arts across Oklahoma. See photographs of Jo Rowan from throughout her career