Q&A: Chip Abbott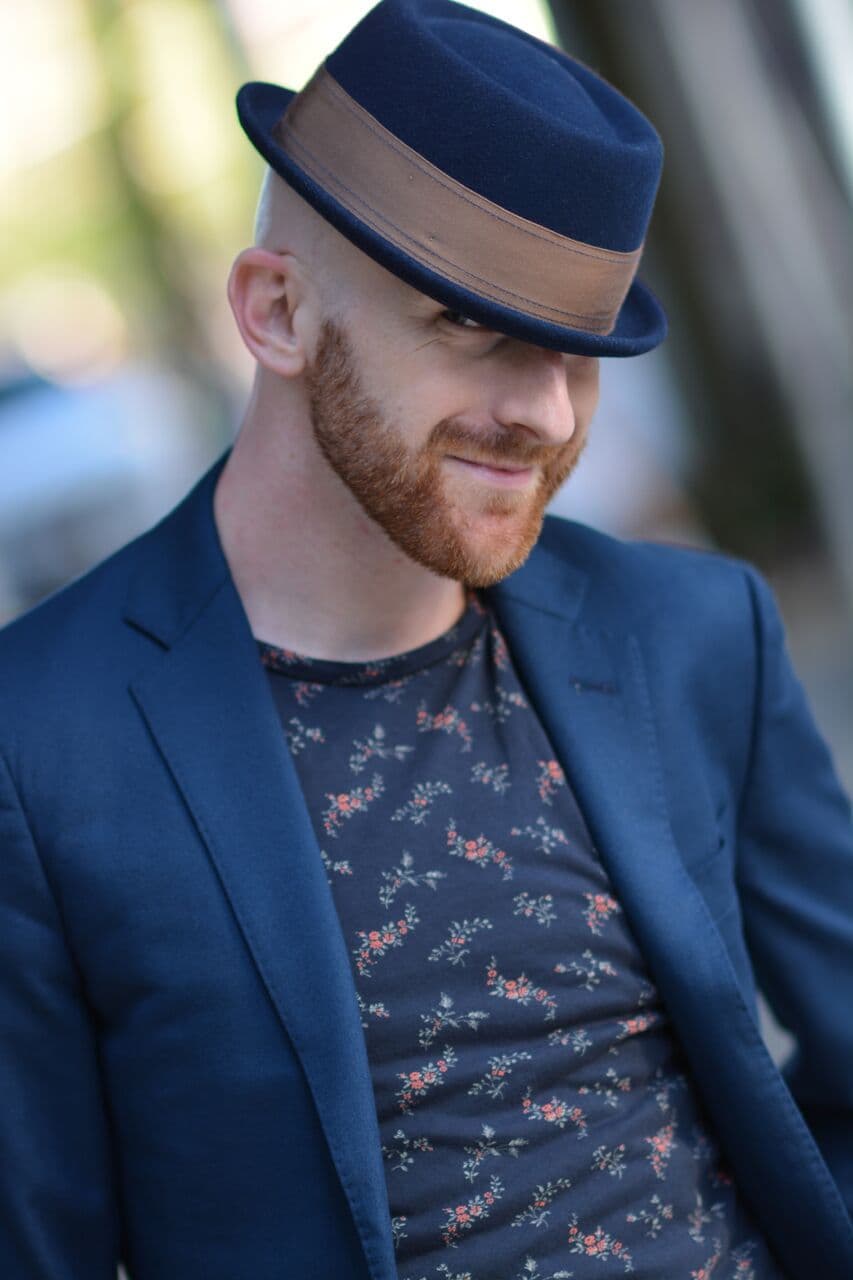 Broadway Veteran, Director, and Choreographer. Chip Abbott spoke with the Ann Lacy School of American Dance & Entertainment about his recent swing role in Broadway's Charlie and the Chocolate Factory,his recent endeavors, "on the other side of the table" directing and choreographing, and the lasting impact OKCU has had on his career.
What led you to OKCU?
I grew up in Carson City, which is a small town in the mountains of Nevada. I had been shopping around for college programs, but my guidance counselors were not well-versed on performing arts schools. There was a tap teacher, Shay Sullivan, who was doing a show at Lake Tahoe that would come down and teach – kind of funny now, fast forward twenty years late and she is a coworker and friend of mine. At the time, Shay has been living in New York but performing in Lake Tahoe and she suggested to look at OKCU and it was by far the most diverse program I had seen. All other programs were specializing in ballet and modern, which is fine, but what really attracted me to OKCU was that its emphasis on ballet, tap, jazz, and theatre dance. It was evident by visiting the school that Jo Rowan and Dean Bedford were very well-versed in how to not only be an artist, but how to make a living as an artist. That was important to me and very important to my family, that I was able to go to a program that would train me and teach me how to survive solely on work as a performer or choreographer. I was also attracted to the fact that OKCU doesn't solely focus on the performing elements, but the management elements as well as the choreography and directing side of live theatre.
What stands out the most about the Ann Lacy School of American Dance and Entertainment?
I think for me, it's the people. I had the luxury of going to college with some of the most incredible human beings I have ever met. Some of us are still friends and coworkers today! I t's very rare that I do a show and there's not one or two "OKCUers" It's always fun to look around the dressing room and be able to say, "Oh, you know what I'm talking about," whenever you say a Jo-ism or reference something that happened in American Spirit, but I think the network is one of the things I'm most thankful for, and the network continues to build.
I have a very fond memory of when I was doing the Radio City Christmas Spectacular. There were four of us in my cast at the time, there were plenty more OKCUers at that time that were in the show, but there were four of us that had gone to school together. I remember that during "Let Christmas Shine" there was a moment where the Rockettes are in a layer downstage and then all of the men are on the layer behind. Lauren Gaul was the Rockette that was just downstage of me while Bradley Barnes, Elliott Bradley, and myself were all in the same row. There was this moment where we were doing these pivot steps when we would upstage then downstage at different time and we're all looking at each other and pointing like, "Oh, it's OKCU!"
It's so hard to think of just one thing that I am fond of, but I think the people, the connections, and the wealth of knowledge that I wasn't even aware I was receiving at the time. There are still lessons now that I look at daily where I saw, "Oh year, I learned that at OKCU." It was such a warm and inviting experience.
How do you describe Jo Rowan and the impact that she has had on your career?
Wow! I can talk about this for five days straight. Jo is a person that leads with love. I think that the respect she has for people and the want for success she has for others is what makes her such an incredible educator. I think that Jo wants much more for her students than we will ever know. For me specifically, she always pushed me to go for my truth, no matter what my truth was. Knowing that I had a spark for something, even if it wasn't the typical career path, Jo nurtured that. She would ask me to challenge it and question it. I didn't realize it at the time, but now that I am older, I get it. She taught me that it's not just dancing, it's not just technique, it is telling a story and telling a story about people. She has such a love for dance, but a greater love for people. Jo really taught me that anything I wanted to do; I could make possible if I worked hard enough. I gained success throughout my career by finding a way to set a goal and make it happen, I am very lucky, but I think a lot of that was encouragement to preserve and the encouragement to keep pushing and training no matter how many "no's" I got.
I think one thing that is very unique about Jo is that she has a mutual respect for all art forms – she understands that each person has a unique voice and we all have a different path to finding success. Jo is really great at encouraging people and inspiring people to set a goal and to reach it.
I think Jo also comes from a school of thought that there is no one way to do something. There are many different ways and that should be celebrated. She always says, "There's no such thing as good luck, good luck is preparation meeting opportunity." I think that rings true. Preparation meeting opportunity is a very real thing – you have to work hard, and you have to show up. Showing up is the biggest part of success. I think it's very evident in the alumni and the people she creates. I think that at the core of it all, Jo has inspired some incredible human beings in a way that we didn't even realize when we were there. Her impact will ring throughout the rest of my career and the rest of my life. There are so many life lessons that I have learned from her, not only how to be successful artists but how to be a human being that leads with love and compassion.
What advice do you have for male students in regard to pursuing dance in college and professionally?
When I was at OKCU, there was a strong presence of male faculty. I think we had two or three men on faculty and even still I felt the women on faculty knew how to approach dance for both genders. One thing that I really liked about OKCU as a male was that Jo would always push the men, there would always be extra options in ballet class for me as our bodies are very different from women. I also felt very featured as a male dancer, I think it's a good thing to go to a program where you will stand out and be utilized. We were constantly featured in the American Spirit Dance Company, and there were numbers that were all men. They have a very good understanding of how to train men to dance like men and how to train me to have successful careers as well because there is so much more to it than just knowing technique. You have to know how to market yourself and I think OKCU has a very good handle on that.
In what ways did OKCU prepare you for Broadway?
I feel like I owe most of my preparation to OKCU for paving the way to Broadway. When I was at OKCU I was actually more geared toward concert dance and a career of dancing in a company. The first two or three years out of college I pursued a career in dance companies, and it was great, but there was just something inside of me that wanted to perform a little more and more often. So, I was incredibly thankful that I went to OKCU and I understood what I would need in my arsenal of skills to go into a musical theatre auditions and be confident in them. When I was at OKCU, we would take class and private voice which you don't typically see in other dance programs. This is so important – gone are the days of just singers and just dancers in the ensemble, everyone has to dance, act, and sing all at a tremendous skill level. At OKCU we were constantly in voice lessons, acting classes, dance classes so I feel that OKCU helped me get organized.
I didn't realize it at the time, but now that I am older, so many of the organizational skills that I learned at OKCU apply to my everyday life. I know exactly what to bring in to an audition and what is going to pave the way for success. On the other side of the table, as a dance captain and a choreographer, OKCU taught me about notations and how to block graphs for myself as a dance captain so that I was able to have an organized and efficient method of maintaining a show.
What is the OKCU community like in New York?
Its vast. One thing that is unique and special about OKCU is that you don't just have one type that is attending school there. We're not all just jazz dancers, we're not all just tap dancers – we do it all. If I ever am struggling with a business solution or a performing aspect, I have entire rolodex of people that continues to grow that I can call upon. The network is large, there are people I meet on a weekly basis if not daily where there's some sort of OKCU connection.
What all goes in to having a swing role for a Broadway musical?
A lot of anti-anxiety medicine and prayer. No, I'm just kidding! It is quite possibly one of the hardest jobs in musicals and on Broadway. Swings and dance captains are the unsung heroes as well as the backbone of every show. When things go crashing to the ground and there's no one there to do the show, you rely on your swing.
I think the least number of tracks (or roles) that I needed to know at one time as a swing was 6. In On The Town, I was responsible for 11 ensemble tracks, one principle track, and then I would swing into 8 of the female tracks as well. You have to be able to analyze a show and look at the big picture. Obviously, you need to know who goes where on stage, but one of the most important parts is knowing what happens backstage. There's no way that a human brain can process all of that information from the get-go and be good to go. OKCU taught me to make dance charts and how to notate choreography. Say one track is doing something on the right and the other is doing something on the left, I have to be able to know both at the drop of a hat, I need to come up with a certain way to document that so I can look at it and know exactly what to do. Notating choreography really helps in that respect as well as writing everything down. Anytime I am swinging a show I go through every track one at a time and dissect if form beginning to end, from curtain coming up to their bow. I have to be able to open up my notebook and say, "I'm in for Elliott Mattox today, this is his show." Then be able to run it beginning to end. It's not just the onstage choreography, quite often the backstage choreography is the hardest – knowing where to go to change costume or who to run for a 30 second quick change. For example, in Charlie and the Chocolate Factory, there are quite often times that things are in the wings being brought down from above you head so you need to know where to stand so you don't get clocked.
What is it like being the dance captain for On the Town?
Very intimidating, I'm kidding. When I was dance captain in On the Town, there was not a moment where I didn't feel grateful. I would be lying if I said there was a single day that went by where I didn't feel challenged. Being a dance captain on Broadway pushes you to do things and to work in a way that you never thought you could. There are some problems that seem like they'd be impossible to solve and then you end up solving them and at the end of the day you get to celebrate. I remember a very distinct moment when the cast for On the Town walked into the room and I'm seeing principal dancers from New York City Ballet, people who used to dance for ABT, people who trained at School of American Ballet their whole lives, and thinking, "Woah, am I in over my head?" The thing is, in that moment, I was where I needed to be. I think you're never put were you're not supposed to be, there Is always something to be learned.
From that experience I learned that if you put your mind to it and breath, anything is possible. You can make it happen. Things will sometimes feel like they are overwhelming and that you can't do it but that's actually there as an example, as a test. Dance captaining is very hard. You are not only the person they go to when the show needs to be cut down or when there aren't enough people to do the show and you have to figure out a new version, it's more than that, it's also about being a compassionate human being. Being able to give your cast support and acting as a leader. Not only for the show and the integrity of the show, but for everyone's emotional well-being. You are the glue and the fabric that holds it all together.
I learned a lot about people, I learned that not everyone is going to take a note the same way – you can have the same sentence structuring and not everyone is going to take it the same way. So, there is a little bit of psychology behind it but I love that, I love being able to go into a show and make people feel good. Being able to take that group of dancers that I was so intimidated by to then be able to work with them on a level that made them feel good about what they were doing and proud of what they were doing… That will always fill me with an overwhelming sense of joy.
What would a normal day look like for you while you are performing in a Broadway musical?
It would depend if it were a rehearsal day or not – typically if it were an understudy rehearsal day, I would show up to the theatre around noon or one o'clock. There's usually a three to four-hour rehearsal – I would show up usually an hour beforehand so that I can go over my notes, I can warm up, have a little snack to fuel me for the day. As a swing, sometimes you know if you are going on month before, sometimes you know right up to a half hour before, and sometimes it'll happen in the middle of the show where you have to go in for someone. Usually after a rehearsal, stage management will notify you if you are on or off and if you're not on for someone, you're still going to be in the theatre. If I wasn't on for someone, I would still show up an hour before the show which is a half hour earlier that we are required to. I would pick a person for that day, so I'll just say Elliott Mattox, he's an OKCUer and I cover him in Charlie and the Chocolate Factory. I would go to my notes for Elliott Mattox, I'd look them over, and I would do what they call a trail where I trail Elliott around the theatre for the whole entire show and the reason behind that is so that you know the spots, where to stand in the wings so that you don't get hit by things, where to pick up your props, who you're picking them up from, where to go when you're dressed. When they're on stage, you do a mark through in time with the show in the wings. Then the show comes down and you can usually leave as soon as the show is done. If I were on for someone, it would be a little bit of a different process.
When I'm on, I show up to the theatre at least an hour and a half before the show starts. I try to go through the track on stage if I'm able. Sometimes you are not able because they are setting the show and making sure they are doing all of the prop checks and making sure everything is working. But usually at some point they'll notify you when you can go on stage. So, I like to mark through the show at least two to three times just to make sure that I am ready to go. Then, depending on the show, there is usually a lift call which is similar to a fight call – A fight call is when there is a fight in the show. Take West Side Story for example, they have a fight call where they mark through the whole fight just to make sure that it is safe. If there are any problems, you can address them then. If we are doing a show that has a lot of lifts in the show, you will end up marking through most of the lifts that you do that can be problematic – that you are doing the right grips and doing it the preferred way, and that can vary from show to show. Charlie and the Chocolate Factory had lift calls that lasted about 10 minutes where On the Town it was half hour to forty-five minutes because there were so many lifts in that show. Then I would do the show and then celebrate afterwards.
So what is the next step of your career?
Charlie and the Chocolate Factory closed in late January (of 2019) so I am in a place in my career where I am ready to start working on the other side of the table, directing and choreographing more. Right now, I work for a company called RWS Entertainment Group, they do many different things. They produce entertainment for cruise ships and theme parks, they also started a new commercial theatre branch of the business where they'll be developing new theatrical works, so I have many functions with them. I am an independent contractor with them on many projects which I think is kind of great. I travel with them as an audition assistant, so I sit with our casting director and talk about dancers that come in. I teach all of the choreography and help him look at dancers that we are interested in casting. I also work as a director/choreographer specifically throughout one of their clients – Hershey Park. The show I developed with them last year won an IAAPA award for Best Theatrical Production Worldwide.
Does the experience of sitting on the other side of the table with the casting director change how you look back on auditions in the past or how you approach auditions now?
Yes, it absolutely does. One really cool thing about being in On the Town was that because I was dance captain at Barrington Stage Company, that then made me assistant choreographer for the Broadway production. So, I actually had the opportunity and the pleasure of sitting behind the table throughout the entire audition process for that show and it was so eye opening. I think that is one of the really cool things about being able to work on both sides of the table is that one aids the other. As a director, I have insight into what someone may be experiencing so I can approach it accordingly and on the other side of the table I feel I have a better handle on how I am perceived. I think the biggest thing that I have learned from these auditions is that we are performers create stakes that are way higher than they actually are – at the end of the day, it's one audition, and yeah, you want to nail it and of course you want to get the job, but there will be plenty more. I think the best thing you can do is walk into a room and present the performance and the material in a way that is professional but doesn't come across as study or overly polished, because at the end of the day, we are interviewing people that we want to spend 8 hours in a room with. I think that walking into a room and being confident and comfortable is key. Because then you appear to be someone that can make adjustments and who can help the process. On the audition tour, I would see people trying to fit into a mold that they think we want, rather than just coming in and being themselves.