Q&A: Gabrielle Ruiz
An in-depth conversation about Broadway, television, and the importance of being a giver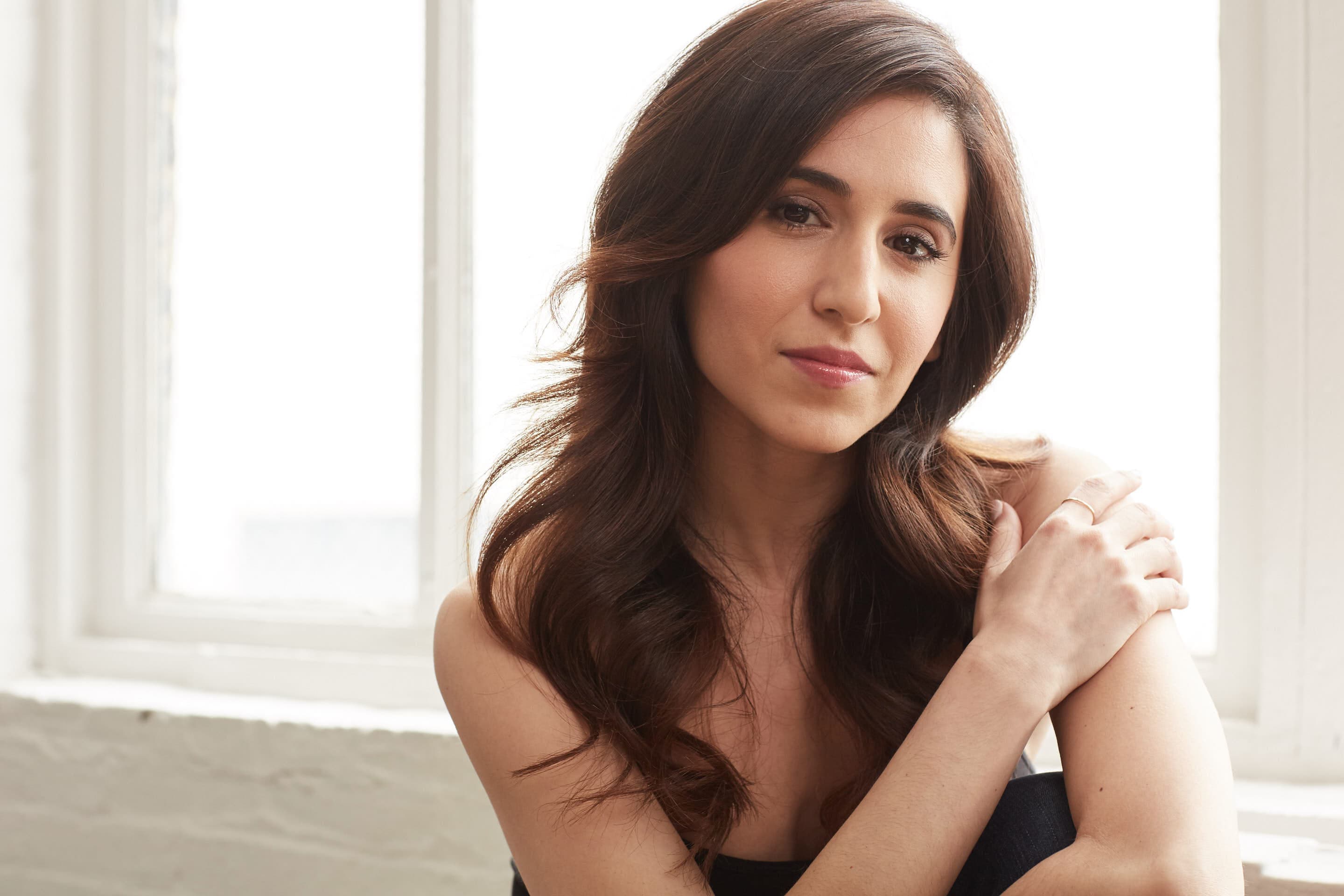 By Ryan Barrett | April 10, 2017
In the back row of her family's Suburban, driving down the roads of South Texas, 10-year-old Gabrielle Ruiz sits, listening to her cassette player and memorizing every note of A Chorus Line. In twelve years, she will be reciting those same notes on the show's National Tour.

"All the concepts in the show didn't resonate with me at age 10. What resonated was that there was a Latina on stage, singing and acting and dancing and I fell in love with the music."
Not long after the national tour, Gabrielle will be sharing the Broadway stage with the same Latina that inspired her at age 10, Priscilla Lopez.
---
Gabrielle graduated with a Dance Performance degree from Oklahoma City University's Ann Lacy School of American Dance and Entertainment in 2007. She has gone on to make a name for herself both on Broadway and on television, performing in the Broadway productions of In the Heights and If/Then as well as starring in the CW's musical comedy show "Crazy Ex-Girlfriend."
Just moments after finishing a Television Academy event rehearsal in Los Angeles, Gabrielle called the Ann Lacy School for an hour-long interview that covered advice for aspiring artists, lessons she learned while at OCU, and characteristics that set Ann Lacy alumni apart in the show business industry.
Growing up in Edinburg, TX and attending college in Oklahoma CIty, OK, did you experience any culture shock shifting to life in New York City and Los Angeles?
I have to say that the culture shock that I received was a lot more prominent when I moved from South Texas to Oklahoma City, oddly enough. I say that because we don't have snow in South Texas! I had no idea that the beanie on my head was created for warmth; I had thought it was just fashion!
What I love about our dance program at OCU is that our school is extremely national. All of the fellow students from Ohio and Denver and New York, they taught us southerners how to drive in the snow.
Transferring from Oklahoma City to New York really wasn't that terrible. I feel like I wore my dance clothing, my ballet tights, until 10 pm every night at OCU. And you had to pack for the whole day and eat right the whole day - not just eat three big meals. So the regimented routine that the dance school instills in your four years completely translated to New York. And I am very proud to say that.
The etiquette and morals that Jo [Rowan, founder and chairman of the dance program] and the faculty teach at OCU completely translate to a New York City lifestyle, without a doubt.
While at OCU, you were incredibly active. Among other things, you were a member of the American Spirit Dance Company and numerous musicals both onstage and backstage. How closely did these productions mirror your Broadway productions and how did they help you when you reached Broadway?
I would have to say that everyone's favorite class, and I say that extremely sarcastically, was stagecraft lab. I don't know how many hours the dance majors have to take of it now, but when I was there, it felt like it was half of the week, just in stagecraft lab. It's where we learned the behind the scenes of a show, the craftwork, how to build sets and help put up a production that is about to open. That definitely created a basic form of respect for how much of a team it takes to be successful in a production, and even in life. The amount of teamwork that I learned and was able to exercise at school definitely was helpful and similar to Broadway.
The amount of hours that we would dance and rehearse, in addition to having to make grades and study, those hours are rather similar to the Broadway schedule.
At the Ann Lacy School of American Dance and Entertainment, we put a lot of emphasis on our Value Wall (Reliability, Ethics, Courage, Commitment, Focus, Motivation, Accountability, Respect, Responsibility), how have those values helped you as a performer and as a person?
I think that one of the many mantras that Jo preaches at OCU, from ballet to rehearsals to her office, that I feel is an umbrella of all the values on that wall is, "It's show business, not show begging." That is one that I say a lot in my career. For myself, for my colleagues, and also as an educator.
It takes a lot of courage to be a tenacious entrepreneur, but that is what this career takes. There is a lot of survival that is not addressed as much as the successful portions of a person's career. Everyone thinks when they're 18-20, that because someone else at that age was successful, that that's the only option. There is a survival aesthetic that takes passion and smarts. That's what it takes to survive in this business.
At OCU, they treated us like professionals. And because all of the faculty embodied those values and expected nothing less from us, we had to exercise all of those values to survive four years of college in that dance program. I wouldn't have it any other way. The positive attitude, the teamwork. Supporting each other, not just as a company but also as a class, to get to the finish line and be prepared for this business of show, there would be no other way to do that.
In what ways did OCU prepare you for the business side of the industry?
I'll go back to the same mantra, "It's show business, not show begging." You can't ask permission in this business, because as a passionate entrepreneur, both the objective and subjective matter. We will do anything for the art, but at the same time, we have rent to pay and dinner to make. I appreciate that I learned that and was prepared for that in college, that we as artists have a right in this world to have a successful business and to not be starving.
I feel that the program at OCU is greatly opposed to the starving artist concept. We know that we are going to know our marks and be prompt, responsible adults. We want to be successful, re-hirable professionals, whether that is a Radio City Rockette, a stage manager of a Broadway show, or a television actor like myself.
In every episode of Crazy Ex-Girlfriend, I don't just dance. I had to take more acting classes and more singing classes. And then television acting classes outside of and after OCU to keep learning and finessing my art. It's because of the curriculum at OCU that I knew that that's what it takes. It takes a lot of hard work.
Does your experience on Broadway help you on camera or are those two completely different mindsets?
That's a great question, because the answer is both. I say that because there is subtlety and simplicity when it comes to TV acting versus Broadway acting. An upclose shot of someone's face is a lot bigger than their normal face on stage. Because of that, I took a Meisner Technique acting class and a commercial class, where you learn the process of auditioning for a commercial. Commercial auditions are a completely different experience than auditioning for a Broadway show.
But my theatre experience did come handy, especially with Crazy Ex-Girlfriend. When I booked season 1 of the show, I was able to be a part of the first table read, even though at first I was a guest star. The CW Executives were there, the CBS Executives were there. Essentially, everyone with a vested interest was there to see the product. They wanted to see what they were investing in.
The pressure of an opening night on Broadway is comparable to that feeling. So I was already used to people watching me perform. When a table read happens, it's basically a live performance.
There was a moment when my character, Valencia, sings her first song and the show's creators, Rachel Bloom and Aline Brosh McKenna, looked at each. Aline said to Rachel, "What do you want to do about the song," because they didn't want to pressure me to sing it. And being a broadway veteran I said, "Well I can sing the song a cappella if you would like," and the Execs from CW and CBS, and the team of Crazy Ex-Girlfriend were blown away. But for all of us actors that were brought from New York to Los Angeles to be a part of Crazy Ex-Girlfriend, it was just another day in New York. But it raised the bar and made everybody realize that this is a special show and a show that the CW and all of television hasn't seen before.
You have now worked on a variety of television shows. Is there much contrast between the atmosphere on set of Crazy Ex-Girlfriend and say, Law & Order: SVU or Orange is the New Black?
I have been a part of wonderful teams that are on time and ready for us as actors. I have been very lucky. The differences between the set of Crazy Ex-Girlfriend, to Orange is the New Black or Law & Order: SVU, is that I get to have a little fun with quote unquote, "theatre people," on Crazy Ex-Girlfriend, and also comedians. Pete Gardner (Darryl Whitefeather) comes from an improvisational comedic background and the things that come out of that man's mouth are just so funny, all the time, on and off screen. They just let him loose sometimes. We get to learn off each other and know that we are coming together for something really special.
Now, when you're on set with Mariska Hargitay, from Law & Order: SVU, does she bring the energy of the room to a higher level because she is such an incredibly fantastic human being? Yes. That was so neat to be around because she is such a giver and wanted to make sure that I was okay in the scene, when she is the queen bee of Law & Order: SVU. She was so giving and so thoughtful as an actress. That was very rewarding. It was confirmation that I was doing the right thing, because I want to be that for someone in the future. She is a lovely person.
With Orange is the New Black, the role that I had was a singing role. That was an experience where the team and the producers and all of the behind the scenes people… everyone was so on their game. I was in and out in like four hours.
That experience was the one time, as of yet, that I geeked out on set, because I love the show so much. I was in the prison and I had my squeal moment, internally. They were very strict about photos, so I didn't do that, but I did take a lot of pictures in my head because it was rather neat to be on the set of that show which is so groundbreaking.
And I live in New York, in Queens, in the same borough that their set is in, so it was the shortest amount of travel time to a show. It felt like it was in my backyard. I just remember strolling to the set because it only took me fifteen minutes, which was quite memorable, because it takes an hour to do anything in New York.
What are a few childhood/ college dreams that you have achieved, and what are some you are still chasing?
Broadway. Broadway, since I was 12 has always been the dream. And I think a lot of us training at OCU share that dream. I am so grateful that I have been able to do it and be a part of that community. Our dance program feeds a lot of alumni into the Broadway world. And we're able to embody and represent what OCU taught us and spread that in New York City which I love and am so proud of.
We have a strong alumni program in New York. We give back to students that are currently in school while they are on Spring Break, which is one of my favorite things to volunteer for. I match students to alumni to let them sleep on their couches. It's one of my favorite times every year because of the people that are bred from this program.
I didn't know that TV was a dream yet, while I was in college, I just wanted to do Broadway. Then I received a few tastes and glimpses of it in New York while doing Broadway. I feel like God's plans are so much more fun than mine, you know what I mean? When all of those No's happen, it makes it so much better when Yes happens, because it's not what you expect most of the time.
As for a dream that I am still chasing, I don't know when it is going to happen and I don't know how ... I feel like I'm about to sing a Disney song … but I have a passion to be a full-time educator, because of my dance performance degree at OCU, where they teach pedagogy. We learned how to teach. That was one of my favorite pillars of that curriculum.
I have a lot of pride in being an educator. This television lifestyle has opened up the opportunity to be able to commit weeks on end, where I couldn't do that on Broadway. Broadway is eight shows a week, you're locked in for a year or two, and it's wonderful, but that's really all you can do. You can only really do projects in New York, you can't really get away. So I'm grateful that this television world has opened up this dream that I still have.
How have the skills that you acquired at OCU manifested themselves in your career?
To just point out a few, because there are many, the mental stability to be a professional performer, is not only strict, but it's demanding. To love what you do and make a career out of it, those skills started as a freshman at Oklahoma City University.
The skills to not just dance, but take regular collegiate classes and be responsible, those skills have helped me to have a balanced lifestyle as well.
I had the privilege to be part of the international tours while I was at OCU. We went to Taipei, Taiwan twice. And, because of John Bedford, the Dean of the Ann Lacy School, I am a very good packer. I remember that day my freshmen year, he sat us down and had about an hour long lecture on how to pack and without that, I would probably still be that girl with too much clothing, with three luggage bags for a weekend trip. Our careers take us on the road a lot, almost half of our life, whether you are married, have kids or not, you're on the road, and one of the most demanding skills when it comes to traveling is to be a well-prepared traveler, and I give Dean Bedford all the credit for that.
Other than that, just being a giver. Being a good human being as opposed to just being a dancer. As artists, we're story tellers, and Jo Rowan and Tiffany van der Merwe [OCU professor], and the rest of the faculty at OCU have always demanded that we respect that, even at a young age, and never take it for granted.
I feel like whether it's casting directors on Broadway or Executives for Crazy Ex-Girlfriend, they see that in us. That we really care to respect what the choreographer wants, what we want as an individual artist, but also what the overall picture is and what the character wants and needs. And that, for me, started at OCU.
How would you describe Jo Rowan and the impact she had on your career path?
First of all, on record, that is an impossible question to answer, because I can not even begin to describe who she is and also what she is. Not only toward the art of dance, but toward the art of life … No one else can match her and what she has given to the world. Her aesthetic on the discipline of our craft is something I still, to this day, strive to achieve and I don't know if I ever will.
Jo Rowan in my life was confirmation that I belonged in show business; because I saw where she was in her life and how she still cared everyday 1,000 percent about her craft, for her students, and for any person that she has an encounter with… If she can still get up and do that to this day, then I can still get up and do that to this day. I can still change people's lives, whether it's about dance or not. She is essentially my mantra in this business. Is that too corny?
The way she represents love through her spirit but also through her dance, is something that I take with me and it is something that I hope I can pay forward. She does a great job of reminding us why we dance and why we are artists. And how important it is to take care of not only body, not only mind, but also your soul. I'm sure you have heard her talk about the soul cookie… When you offer your soul cookie to someone, it's precious and you protect it. The OCU alumni on either coast, whether it's New York or Los Angeles, we look out for each other. And that is a personal lifestyle that is so incredible and we are all so proud to represent on both coasts.
Let me also say this, it's the team of Jo and John Bedford that are one-of-a-kind. John was also an impact on my college life, to confirm that the ethics and the business of what we do is quite doable and it's possible to demand better for yourself. He always told me that. He always reminded me that there is always a chance to do better.
They are a team and they are incomparable. Nobody can stop them.
Where would you like to be in 5 years?
My husband and I are very family first. In five years, we hope that we have started a family. We hope that down the road we can reap the benefits of the efforts we are putting in now so that we can later have the time to enjoy having a family. We would definitely like to make LA our home.
Besides that, I would love to be the name that studios think of for the next movie. Whether it be a comedy, a drama, Sci Fi, the next Terminator movie, which I would love to do. I would love for film to be on my horizon.
Is there anything else you would like to add?
I just want to make sure that John Bedford is in there no matter what, because he is by far a huge part of that dance program as well. I could talk about Jo for hours, but John is the best balance. They are such a great team. They balance each other out in such a great way!