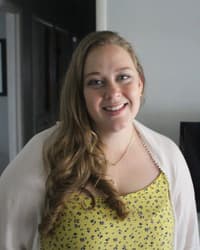 Alyssa Couturier-Herndon,
Assistant Professor of Costume Design and Technology
Theatre Design & Production
School of Theatre
Biography
Alyssa Couturier is the Assistant Professor of Costume Design and Technology at Oklahoma City University. She holds a BFA in Fashion from the Savannah College of Art and Design, as well as an MFA in Costume Design from the University of Florida. Before joining OCU, Alyssa was the Resident Costume Designer at the University of Central Oklahoma. She previously designed costumes for OSU, OBU, The Jazz Lab, Painted Sky Opera, and The Hippodrome Theatre (FL) and worked as a technician for OKC Ballet, Lyric Theatre, and The Depot Theatre (NY).
Alyssa is the recipient of the KCACTF Design Excellence Award in Costume Design for Region IV (2015), the SETC/David Weiss Design Award (2015), the SETC Graduate Costume Design Award (2014), the University of Florida Creative Research Award (2015), and the Oklahoma Broadway Award for Best Equity Costume Design (2019).
Alyssa is an active member of IATSE 112. To see more, visit www.alyssacouturier.com.
Contact Information
GS257
Gold Star Building

Oklahoma City, OK 73106