Amy Thiessen, PT, MEd, PhD, NCS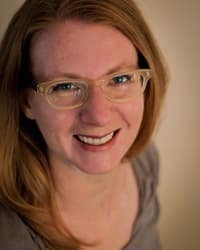 Amy Thiessen, PT, MEd, PhD, NCS,
Clinical Assistant Professor
Doctor of Physical Therapy
Biography
Dr. Amy Thiessen is a physical therapy graduate from the University of Oklahoma Health Science Center in 1997. Dr. Thiessen joined OCU as a full-time faculty in 2018. Her primary teaching focus has been in the areas of gross anatomy and neurology.

Dr. Thiessen received her master's degree in Adult and Continuing Education from the University of Oklahoma in 2003. She completed her PhD from the University of Oklahoma in Biomedical Education in 2018. She completed her Neurologic Clinical Specialists Certification in 2005 and 2015.
Dr. Thiessen's PT clinical practice has focused on adults with neurological impairments. Her practice included in-patient rehabilitation, out-patient rehabilitation, and the OUHSC Lokomat clinic. In 2011, she joined OMRF as part of the Multiple Sclerosis Center of Excellence. There she specialized in the long-term rehabilitation and function of individuals at all stages of Multiple Sclerosis. While at the MS Center at OMRF, this included treatment for balance, mobility, equipment needs, and development of an interdisciplinary spasticity management program.
While at the MS Center for Excellence at OMRF, Dr. Thiessen was the recipient of and MS Foundation Grant to study the efficacy of PT delivered via telemedicine as well as awards for service and volunteerism.
Education and National Certifications
APTA Clinical Specialist Certification: 2005, 2015
RESNA Assistive Technology Practitioner: 2004
PhD, University of Oklahoma: 2018
MS, University of Oklahoma: 2003
BSPT, University of Oklahoma Health Sciences: 1997
Teaching Interests
Gross Anatomy
Neuroanatomy
Neuroscience and rehabilitation for individuals with neurologic dysfunction
Interdisciplinary education
Current Research/Scholarly Interest
Stress management and coping skills in students
Interdisciplinary learning environments
Awards, Recognition, and Service
2020 APTA Specialist Question Writer
2017 Labe C. Scheinberg Award. Best Work in Neuro Rehabilitation. CMSC.
2015 National Multiple Sclerosis Society Volunteer of the Year: Clinician South-Central Region
2013-2014 National Multiple Sclerosis Society: Pilot Grant for Telehealth Physical Therapy in Individuals with Multiple Sclerosis
Contact Information
Room 113
Loeffler Building

Oklahoma City, OK 73106