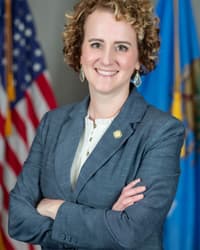 Beth Green, MCJ,
Criminal Justice
Criminal Justice
Master's in Criminology
Biography
Professor Green started her law enforcement career with the Warr Acres Police Department as a patrol officer in 2000. In July 2005, she promoted to detective. In April 2007, she was hired as an agent with the Oklahoma State Bureau of Investigation. In 2013, Green promoted to Assistant Special Agent in Charge (Lieutenant) over the Crime Scene Investigation Unit. In addition to supervisory duties, her primary responsibility was crime scene investigations; however, she also assisted in general investigations, interviews/interrogations, and specialized in victimology and intimate partner violence. In September 2019, Green transferred to a Lieutenant position in Major Crimes in the South Central Region of Oklahoma. In March 2020, Green promoted to the rank of Special Agent in Charge (Captain) and commands the South Central Region.
Professor Green began as an adjunct instructor for OCU in August 2012, teaching in the undergraduate Criminal Justice program and the graduate Criminology program. In August 2016, Green was named Chair of the Criminal Justice department and Director of the Criminology program.
Her educational background includes an Associate of Applied Science in Police Science from Oklahoma State University-Oklahoma City (2001), a Bachelor of Liberal Studies with a Concentration in Behavioral Studies from Oklahoma City University (2005), and a Master of Criminal Justice from Oklahoma City University (2007). Green is currently in the Sociology/Criminology Ph.D. program at the University of Oklahoma. Green has over 2,500 hours of continuing education approved by the Council on Law Enforcement Education and Training (CLEET).
Contact Information
208
Walker Center

Oklahoma City, OK 73106