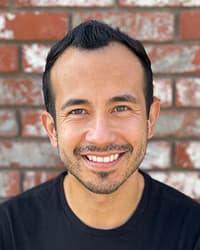 Bob Shryock, MFA,
Program Director; Independent Projects I & II
MFA Screen Acting
Biography
As program director, Bob is responsible for the strategic vision and its implementation for the MFA in Screen Acting program. Bob regularly collaborates with our London partner institution to uphold the program's pedagogic and professionalization goals, and to ensure the quality of the student, faculty and staff experience in both cities. As assistant professor, he teaches Independent Projects I & II and directs film productions in the first year of the program.
Bob's professional, creative and personal journey has positioned him at the intersection of higher education, and performing arts and entertainment, holding positions as an educator and administrator, as well as director, writer, producer and actor.
Originally from Manila, Philippines, Bob came to the US through foster care and adoption. After a brief time in Hawaii, he did most of his growing up in rural areas in North Carolina, Louisiana and Kentucky. Otherness and belonging, equity and inclusion, compassion, collaboration, and a healthy harmony between rigor and play are foundational to Bob's approach to leadership and his facilitation of spaces, groups and productions/projects.
As an artist and creative, Bob is a story-maker and bridge builder. He believes that stories are a profound way to share ideas and connect people, communities and cultures. Bob has held artistic leadership positions in New York and the Bay Area and he's been recognized for his work as a director, most recently for GOLD: the Midas Musical, recipient of the Theatre Bay Area award for Outstanding Word Premiere Musical and finalist for the TBA award for Best Direction of a Musical. Bob is especially passionate about collaborative approaches to creating, developing and premiering new work.
Additionally, Bob has served on faculty at Accademia dell'Arte (Arezzo, Italy) and Academy of Art University School of Acting (San Francisco, Calif.). He has taught topics in acting, movement, physical/visual storytelling, devising and collaborative creation, composition, and mask technique and performance at colleges and universities around the US, including Boston University, Carnegie Mellon University, Muhlenberg College, Syracuse University, Coastal Carolina University, Emory University, San Diego State University, CSU-LA, USC, UC San Diego, Cornish College of the Arts, University of Arkansas, Hampshire College and others. As an actor, Bob has performed onstage and onscreen in dozens of productions in New York, the Bay Area, the Southeast/Midwest, as well as in Italy and Germany.
Bob holds an MFA in Physical Theatre from Accademia dell'Arte (Arezzo, Italy), a Certificate of Training in Mask & Pantomime from Berliner Schule für Schauspiel (Berlin, Germany), and a Certificate of Training in Circus from F.L.I.C. Scuola di Circo (Turin, Italy). He studied theatre (acting and directing) and biology as an undergraduate at Western Kentucky University. Bob is a member of the Southeastern Theatre Conference (SETC), where he serves on the Equity & Inclusion Council and co-Chairs the BIPOC/Global Majority Group.