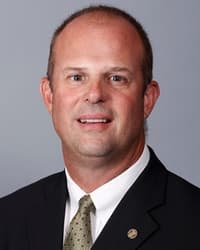 Chris Maxon,
Associate Athletic Director for Development
University Advancement
Biography
Chris Maxon comes from the University of Tulsa where he was Associate Athletic Director for Development following a stint as TU's Assistant AD/Director of the Golden Hurricane Club. He has also served in various development positions at the University of Oklahoma.

At OU, Maxon was the director of development and external relations for the University of Oklahoma's College of Atmospheric and Geographic Sciences and The National Weather Center for five years. He was also a member of the adjunct faculty for the university's Price College of Business during that time period.

Maxon has also served as the associate director for the University of Oklahoma's Central Development office, director of communications for the College of Engineering and assistant director of the Sooner Club.

Since first joining the University of Oklahoma in 2000, he spent one year (2011-12) away from the school as a sponsorship and corporate ticket executive with the Oklahoma City Barons of the AHL.

Maxon earned his bachelor's degree in journalism from the University of Oklahoma in 1994, and is currently pursuing his master's degree in sport management from Temple University. He is married to Stacey Maxon and they have four children: Brennan, John, Brant and Katie.
Education
B.A. in Journalism, University of Oklahoma
Contact Information
Room 224
Henry J. Freede Wellness Center