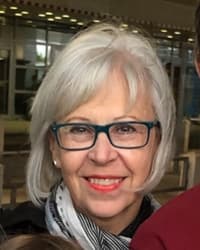 Claudia Carroll-Phelps,
Adjunct Instructor of Piano
Keyboard
School of Music
Biography
"I believe performing music involves the whole person, combining the cerebral with trained physical movement and the vulnerability of free expression. This is living art."
Honored in 2004 as Oklahoma City University's outstanding adjunct faculty member, Claudia Carroll joined the faculty in 1993 as adjunct professor of piano.

Professor Carroll earned the Associate of Arts degree from Cottey College and completed the Bachelor and Master of Music degrees from the University of Oklahoma in piano performance. She continued professional study at the University of Iowa, with further study in New York City. Her instructors include Lois Gauger, Digby Bell, Kenneth Amada, and Martin Canin. She has been a member and active participant in Pi Kappa Lambda honor society and Sigma Alpha Iota music sorority.
Professor Carroll's accompanying experiences include the New York Conservatory of Dance, the American Ballet Theatre School in New York City, Pittsburg Ballet Theatre, Ballet Oklahoma, and ten years accompanying ballet classes for Jo Rowan at OCU. Extensive vocal accompanying at OCU includes collaboration with Florence Birdwell, Emogene Collins, and, currently, Larry Keller's entire vocal studio. Recitals and various opera and musical theater works are in her experience as well.
Teaching applied piano at all levels is a special focal point for Professor Carroll. Her coursework responsibilities encompass Vocal Accompanying, Piano Ensemble, and Keyboard Literature Seminar.
She is a frequent adjudicator of piano competitions, regularly attending state and national conventions, and has served as an artist-in-residence for the State Arts Council, focusing on musicianship through movement and imagery.
Contact Information
Room A309
Bass Center

Oklahoma City, OK 73106