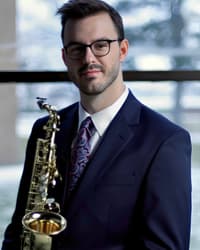 Dr. Joshua Heaney,
Recruitment Coordinator, Adjunct Instructor of Saxophone
Music
Instrumental Music
Music Staff
School of Music
Biography
Joshua Heaney is a saxophonist and music educator based in Oklahoma City. His performances and research have taken him to Italy, Switzerland, and throughout the United States at regional and national engagements, including SoundNOW, Bowling Green New Music Festival, Indiana State University Contemporary Music Festival, College Music Society Great Lakes Regional Conference, Society for Minimalist Music's International Conference on Music and Minimalism, Navy Band Saxophone Symposium, National Association for Music Education Eastern Region Conference, North American Saxophone Alliance Conferences. He has also been heard on music series and radio programs, including, WABE Atlanta Music Scene, WGTE Live from FM 91, Virginia Center for the Creative Arts' Composer Playlist, ASCAP New Music Friday, among others. Described as, "a sparkling and emotionally charged elixir of sound" (Morning Classics with Mary Claire Murphy), Joshua's playing has received accolades and praise from audiences and composers alike. He was a prizewinning performer in the Susquehanna University Concerto Competition, Thomas M. Brumby Concerto Competition, Great Composers Competition Series, Georgia State University Honors Competition, Douglas Wayland Chamber Competition, GMTA Chamber Winds Competition, and ENKOR International Chamber Music Competition. He has appeared as a soloist with the Keene State University Concert Band, Heidelberg University Symphonic Band, Atlanta Chamber Collective, Georgia State University Wind Ensemble, among others. Joshua has also performed as principal saxophonist with the Fort Wayne Philharmonic, Lima Symphony, Macon Symphony and the Eastern Music Festival pops ensemble.

An artist striving for novel expression, storytelling, and human connection through contemporary music, Joshua Heaney regularly engages with emerging and established composers alike. Joshua has collaborated with, commissioned, and premiered over 40 works by distinguished and emerging composers such as Augusta Read Thomas, John Luther Adams, Marilyn Shrude, Marc Mellits, Michael Schelle, Evan Ziporyn, and many others. Most recently, Joshua commissioned and premiered "Sanctuary," by Viet Cuong for saxophone and piano as well as "Ripple," a new concerto for saxophone and wind ensemble by Matthew Kennedy. Joshua can be heard performing music by Steve Reich and Viet Cuong on commercial single releases and on compilation albums by Stephen Woods and Matthew Quayle. Most recently, Joshua can be heard on his debut album ALCHEMY, performed in collaboration with pianist and composer Benjamin T. Nylander, released on CD and digital platforms through Clarinet & Saxophone Classics Recordings.

Beyond performing, Joshua is an impassioned music educator and regularly presents masterclasses, clinics, and performances at public schools and universities. His passion for music education extended to a residency at the Giuseppe Sarti Scuola di Musica in Faenza, Italy through the Susquehanna University GO Program, where he researched the Italian community music education system and ear-training pedagogy. Joshua served as Orchestra Director at Rolesville High School in Raleigh, North Carolina as part of the Wake County Public School System. During his tenure at Rolesville, Joshua was awarded Wake County's Diane Kent-Parker First-Year Teacher Award and was featured on WRAL-5's Teacher of the Week news segment.

Joshua Heaney serves as Saxophone Instructor & Recruitment Coordinator at Oklahoma City University's Wanda L. Bass School of Music. During the summer, he teaches saxophone at New England Music Camp and is on the faculty of the Frederick L. Hemke Saxophone Institute at Snow Pond Music Festival. Joshua holds degrees from Susquehanna University (BME, Cum Laude), Georgia State University (MM/AD), and Bowling Green State University (DMA). His primary teachers include Gail B. Levinsky, Jan Baker, John Sampen, and Frederick L. Hemke, including additional jazz studies with David Bixler. Joshua maintains active affiliations with the National Association for Music Education, the North American Saxophone Alliance, and Phi Mu Alpha Sinfonia.
Contact Information
A314
Bass Center

Oklahoma City, OK 73106