Philip Staufer Todd, Ph.D.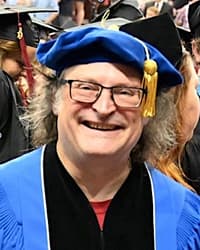 Philip Staufer Todd, Ph.D.,
Student Publications / Media OCU Advisor
Mass Comm
Biography
Philip A. Stauffer Todd is a longtime journalist and media scholar with more than 30 years' experience in newspapers, magazines, textbooks, reporting, editing, design, prepress, radio, and teaching. He previously taught at Seminole State College, East Central University, the University of Oklahoma, St. Gregory's University, Oklahoma Baptist University, the University of Kentucky, Eastern Kentucky University, and Spencerian College.
He has presented and published work on topics ranging from media pedagogy and ethics to musicology. Most recently, his OU dissertation was named the 2020 Penn State Davis Ethics Award winner for best media ethics-related research. In addition to causing whatever trouble he can in Shawnee over the past 20 years, he also serves as secretary to the OKC Pro Chapter, Society of Professional Journalists; copy editor and consultant for Peace Studies, a quarterly publication of The Peace and Justice Studies Association; and publicity and planning volunteer for ProgDay, an annual outdoor progressive rock festival in North Carolina.