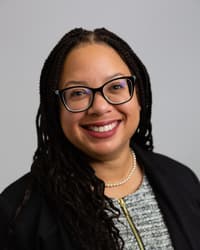 Talia Carroll, Ph.D.,
Vice President for Diversity, Equity, & Inclusion
Diversity, Equity & Inclusion
Biography
Dr. Talia Carroll (she/her) currently serves as the Vice President for Diversity and Inclusion at Oklahoma City University where she leads and guides diversity, equity, and inclusion efforts. The foundation of her passion for this work stems from her experiences living in Portugal, Singapore, and Spain, traveling extensively as a member of a military family, as well as meaningful career opportunities that shaped her worldview and commitment to helping others broaden their perspectives.

With nearly fifteen years of professional experience, she has dedicated her career to improving the academic and social support for historically marginalized and underserved populations, with special attention to improving campus climate and sense of belonging within higher education communities.

Dr. Carroll engages in her work from an affirming stance by underscoring that intersection identities inform our daily experiences. She thrives from supporting individuals in achieving personal and professional growth as the owner and founder of Kinetic Connections Consulting, LLC. Specifically, she provides coaching, consulting, and speaking engagements for individuals, groups, and businesses on a range of topics including diversity, equity, inclusion, leadership, and change and career management.

Dr. Carroll earned a B.A. in English and a M.Ed. in Adult and Higher Education from The University of Oklahoma. She earned her Ph.D. in Higher Education from The Pennsylvania State University.

In addition to her professional life, she also enjoys spending time with friends and family, getting take-out from restaurants she hasn't tried before, taking daily walks, and becoming reacquainted with Oklahoma City having returned back to her home state from living in Colorado.
Contact Information
AD 205
Clara E. Jones Administration Building

Oklahoma CIty, OK 73106