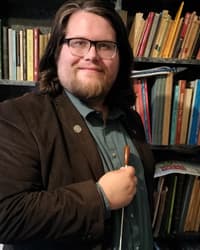 Dr. Zachary Daniels,
Adjunct Instructor of Music Theory
Music
Music Theory
School of Music
Biography
Dr. Zachary Daniels is an award-winning composer, and conductor currently residing in Oklahoma City. He currently teaches Music Theory and Aural Skills at Oklahoma City University and Oklahoma City Community College, as well as teaching Strings and Composition at Rose State College.
Dr. Daniels is a composer of concert, theatre, and film music, whose compositions range from experimental pieces for laptop quartet or toaster, to explorations of the sonic possibilities of solo flute, to minimalist works for strings, and full orchestral works. Dr. Daniels' electronic music is largely narrative in nature and usually focuses on a singular sound-source such as a toaster, or a construction site. His music makes regular appearances with local organizations and groups including Oklahoma Contemporary Arts Center, the Oklahoma Chamber Symphony, and the Oklahoma Community Orchestra. Works such as Prayer for Peace, written in response to the 2022 War in Ukraine, have been heard in venues across the world including halls in Austria, South Korea, and San Francisco. Dr. Daniels' music has been selected for performance at highly competitive venues and events including College Music Society conferences, the Inner sOUndscapes Concert Series, Society for Electroacoustic Music in the United States, and the New York City Electroacoustic Music Festival. Dr. Daniels' music is often described as driving, engaging, and highly eclectic in nature. Dr. Daniels enjoys conducting his own music, and presenting it to an audience in educational, professional, and informal settings. This has included portrait concerts at local museums, symphony orchestra concerts, and clinician work throughout the region. Dr. Daniels' music is all under ASCAP rights, available through his website (https://zachdaniels.com), and published mostly by his own publishing house, Divisi Labs.
As a conductor, Dr. Daniels has conducted various orchestras, bands, choirs, and chamber groups professionally beginning at the age of 15, when he conducted his first premiere with his high school's orchestra. Since then, he has directed various groups including the Drury Chamber Orchestra, OU New Century Ensemble, and the Oklahoma Laptop Orchestra. He currently directs the OCCC String Ensemble and serves as assistant conductor for the Oklahoma Community Orchestra and the Irv Wagner Band.
Dr. Daniels is principal Double Bassist with the Oklahoma Chamber Symphony, and has performed on CMS conferences, with the Oklahoma Community Orchestra, and the Missouri Philharmonic as well as performing regularly on cello, synthesizer, theremin, and Electric Bass. Dr. Daniels continues to advocate for new music locally and across the region, while remaining active in professional organizations such as CMS, SCI, SMT, and SEAMUS.
When he isn't composing, conducting, or teaching, Dr. Daniels is an avid programmer and long-time game enthusiast with a love of films.