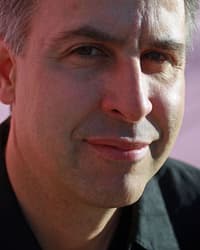 Dr. Edward Knight,
Professor of Music/Composer in Residence
Music Composition
School of Music
Biography
Dr. Edward Knight is composer-in-residence and director of music composition at Oklahoma City University.

He was named Oklahoma's 2002 Musician of the Year and awarded fellowships to the Yaddo Arts Colony in Saratoga Spring, New York, in 2001 and 2002, and to the MacDowell Colony in Peterborough, New Hampshire in 2003. Since his arrival at OCU in 1997, he has premiered more than 30 compositions, including works for orchestra, symphonic band, percussion ensemble, piano trio; a clarinet sonata; cabaret songs; two fanfares; and two original full-length romantic musical comedies.
Knight has a background in jazz, classical, and theatrical composition. He toured Europe as a jazz trumpeter and earned his DMA from University of Texas at Austin. He studied privately with John Corigliano and was the first American to win the Sir Arthur Bliss Memorial award, for outstanding postgraduate composer at London's Royal College of Music.
Knight's orchestral works have been premiered by the New York Philharmonic, the Civic Orchestra of Chicago, and the Los Angeles Philharmonic Institute. John von Rhein of the Chicago Tribune called Knight's music "visceral in its excitement... The score (of the orchestra piece BIG SHOULDERS) seizes and holds your imagination and makes you want to hear it again."
Bernard Holland of The New York Times called Knight a "fresh, original voice, a young man to be encouraged. He hears the sounds of his time in his own way and is especially good at transferring bright, hard synthesized colors to the upper registers of acoustical instruments . . . Brightness and silence are major tools in this piece (CONCERTO FOR CLARINET) and Knight uses them with an inventive sense of humor."
Timothy Mangan of the Los Angeles Times cited "the composer's canny combination of steady meter with atonal lyricism, a waltz-like lilt with expressionist angst." After its Hollywood Bowl premiere, Mangan called Knight's orchestra piece GRANITE ISLAND "tightly unified, suave and sinister, confidently orchestrated."
Wayne Lee Gay of Knight-Ridder News Service called Knight's song cycle LIFE IS FINE "inventive and melodic" with "the sound of a work that may well be a major addition to the American vocal-orchestral repertoire."
Recent awards include fellowships to the arts colonies at Yaddo and MacDowell; the 2001 Oklahoma Music Teachers' Association Composer of the Year; 2002 Musician of the Year from the Oklahoma Federation of Music Clubs; ASCAP's Rudolf Nissim Award; first prize in the National Orchestra Association's New Music Orchestral Project; and special commendations from the Bergen Festival and Vienna Modern Masters. In addition, he has won ASCAP Standard Awards for each of the past 14 years.
His compositions are published exclusively by Subito Music, distributed nationally by Theodore Presser, and internationally by Boosey & Hawkes.
Contact Information
A328
Bass Center

Oklahoma City, OK 73106