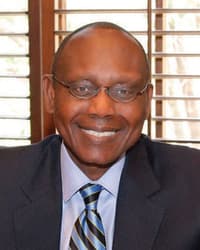 Dr. Emmanuel E. Edem,
Board Secretary
Board of Trustees
Biography
Alumnus: '82 juris Doctor '98 honorary Doctor of Laws
• 1989 OCU Outstanding Alumnus Award

Emmanuel E. Edem is a partner of Norman & Edem, PLLC. He earned a Juris Doctorate from Oklahoma City University ('82).
In 1998, Oklahoma City University recognized Mr. Edem as a Distinguished Law Alumnus, where he received an honorary doctorate degree. He currently serves as a member of the OCU Board of Trustees and as Chairman of the OCU Law Executive Board.
Mr. Edem served as president of the Oklahoma Association for Justice (formerly known as the Oklahoma Trial Lawyers Association) in 1995. From 1996 to 2000, he chaired the Oklahoma Bar Association Committee on Law Schools. He is a member of the American Board of Trial Advocates and a Master of the William J. Holloway, Jr. American Inn of Court. He serves on the Oklahoma Supreme Court Standing Committee on Uniform Jury Instructions. He was named an Oklahoma Fellow of the American Bar Foundation.
Mr. Edem is a sustaining member of the American Association for Justice (formerly known as the Association of Trial Lawyers of America) and has served as a faculty member at the National College of Advocacy and the Ultimate Trial College at Harvard Law School. He has taught as an adjunct professor at Oklahoma City University School of Law. He is a past president of the Civil Justice Foundation and a trustee of the Roscoe Pound Foundation.
In 1998, Mr. Edem was one of the few lawyers in the United States selected to participate in the American Bar Association's Presidential Showcase Program, the "The Trial of the Century-The Sinking of the Titanic," which took place at the Annual Meeting of the American Bar Association in Toronto, Ontario, Canada.
Mr. Edem's practice is limited to serious personal injury and wrongful death cases, products liability, medical malpractice and general civil litigation. Mr. Edem is also involved, on a national basis, in cases arising out of the subprime mortgage crisis, and the securitization of mortgage loans by the financial industry.