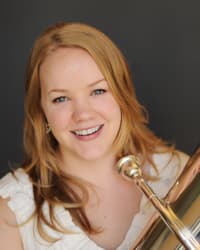 Dr. Genevieve Clarkson,
Associate Professor of Tuba and Euphonium
Instrumental Music
School of Music
Biography
An accomplished knitter, Game of Thrones super-fan, and Arlington, Virginia native, Dr. Genevieve Clarkson joined the faculty of Oklahoma City University in fall of 2018.
Genevieve has been featured as a soloist at the International Women's Brass Conferences in 2012 and 2014 as well as International Tuba Euphonium Regional and Biennial International Conferences in 2015, 2016, and 2017. Genevieve's playing has taken her around the world as part of conferences and touring ensembles, including performances across North America, Europe, and Asia.
Genevieve plays contrabass tuba in the In Motus Quartet, a tuba-euphonium quartet made up of professional players and teachers from across the country. Assisted by a recording artist grant, the In Motus Quartet released their first CD in the spring of 2016 through Emeritus Recordings, and their second CD - featuring Octubaween-inspired music - in the fall of 2018.
Genevieve has performed with various symphony orchestras across the United States and has participated in music festivals around the world including the National Symphony Orchestra Summer Music Institute, the Shenandoah Valley Bach Festival, and the Spoleto Festival in Spoleto, Italy. Most recently, Genevieve's tuba playing took her on a three-week tour of China in the summer of 2017 where she ate her fill of dumplings and green onion pancakes. Genevieve received her DM in tuba performance from Indiana University's Jacobs School of Music (2017), her MM in tuba performance from the University of Cincinnati College-Conservatory of Music (2011), and her BM in music education from James Madison University in Harrisonburg, VA (2009) where she graduated Magna cum laude and served as banner bearer for the School of Visual and Performing Arts. Her past teachers have included Daniel Perantoni, Timothy Northcut, Kevin Stees, John Cradler, and John Mueller.
Contact Information
Room B306
Bass Center

Oklahoma City, OK 73106