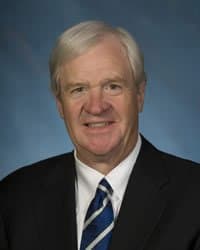 Gerald L. Gamble, D.H.L.,
Trustee
Board of Trustees
Biography
Alumnus: '68 juris Doctor '97 honorary Doctor of Commercial Science
2005 Bishop Paul W. Milhouse Award Recipient, OCU
Past-Chairman, Greater OKC Chamber of Commerce
1986 Realtor of the Year, Oklahoma Assn. of Realtors
Trustee: OMRF, Okla. United Methodist Foundation
Gerald L. Gamble is President and Owner of Gerald L. Gamble Co., Inc., Commercial and Industrial Realtors. He has been active in the brokerage of commercial and industrial properties in the Oklahoma City area for over 45 years, specializing in the sale and leasing of commercial, industrial, and investment properties, site locations for industrial and commercial users, and counseling assignments.
Gamble is a Phi Beta Kappa graduate of the University of Oklahoma, received his Master's degree from Stanford University, and graduated first in his class with a Juris Doctorate degree from Oklahoma City University School of Law.
Gamble is a past-President of the Oklahoma City Metropolitan Association of Realtors and for many years served on the Oklahoma Association of Realtors Board of Directors. He is a past-Director of the National Association of Realtors, served as President of the 11,000-member Oklahoma Association of Realtors in 1985, and was named "Realtor of the Year" by the Oklahoma Association's Board in 1986.
Gamble is an active member of the Society of Industrial and Office Realtors (SIOR) and holds the Certified Commercial Investment Member designation of the CCIM Institute. He is also a member of the Counselors of Real Estate holding the CRE designation and is a member of the Oklahoma Bar Association. Gamble was named Oklahoma City's Outstanding Young Man in 1974.
Professional and civic involvement includes long-time Director and 1997 Chairman of the Greater Oklahoma City Chamber of Commerce; Chairman of the Oklahoma City Economic Development Foundation; and past-President and long-time member of the Executive Committee of the Last Frontier Council, Boy Scouts of America. He is a member of the Oklahoma City Downtown Rotary Club and the Economic Club of Oklahoma City, has served as Co-Chairman of the Oklahoma City United Way Fund Drive, and is a Trustee of the Oklahoma Medical Research Foundation, Oklahoma United Methodist Foundation, and Oklahoma City University. In 1997 Gamble was awarded the honorary degree of Doctorate of Commercial Science from Oklahoma City University. In 2010 Gamble was honored as an inductee to the Oklahoma Commerce and Industry Hall of Honor.
Gamble is married to Jane Jayroe Gamble and has one stepson, Tyler Jayroe, a graduate of Vanderbilt University.