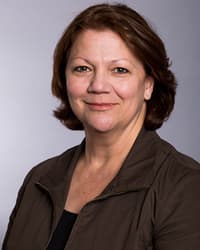 Helen Gaudin, Ph.D.,
Professor of Biology
Biology
Biography
Dr. Gaudin received her Ph.D. in Microbiology from the University of Texas Southwestern Medical Center in Dallas, TX. She joined the OCU faculty in 2004.

Currently Teaching
General Microbiology, Advanced Principles in Biology, Advanced Biochemistry, Molecular Biology, Cell Biology, Medical Vocabulary, Orientation to Biology, Science, Technology, and Society
Research Interest
Medical Microbiology and Regulated Gene Expression
Selected Publications
Gaudin, H.M. and Silverman, P.M. (1993) Contributions of promoter context and structure to regulated expression of the F plasmid traY promoter in Escherichia coliK12. Molec. Microbiol. 8: 335-342.
Rolf, J.M., Gaudin, H.M., Tirrell, S.M., MacDonald, A.B., and Eidels, L. (1989) Anti-idiotypic antibodies that protect cells against the action of diphtheria toxin. Proc. Natl. Acad. Sci. USA. 86: 2036-2039.
Contact Information
215F
Sarkeys Science & Math Center

Oklahoma City, OK 73106