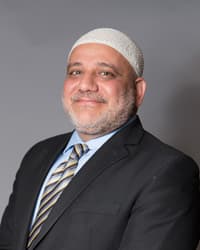 Imad Enchassi, Ph.D.,
Religion
Religion
Biography
Courses
World Religions, Roots of Islam, History of Islam in US, 9-11 and misconception of Islam, Interfaith and Pluralism, Survey of the Major Themes of the Quran, Islamic Theology, Arabic
About Me
I grew up in the Palestinian refugee camps in Beirut, Lebanon. My experiences as a child surrounded by war and conflict have shaped my passion as an adult for promoting unity and understanding. When asked about living through the massacres in the Sabra and Shatila refugee camps, I say I think God exposed me to so much hatred and violence so that I could be a voice for love and peace.
After moving to the United States at 17, I began a long journey in education, receiving business degrees from South Plains College and Southern Nazarene University and, then, completed my masters in management from the University of Phoenix. I've used those degrees to excel in the restaurant industry as a regional director and advisor for nearly two decades.
In 2004, I made a career move, turning my previous part-time volunteering activities into a full-time commitment by becoming the founder and executive director of Mercy Education Foundation - a multi-million dollar project creating the first accredited Islamic school in Oklahoma City. During that time, I also become the founder, Imam, and president of the Islamic Society of Greater Oklahoma City (ISGOC). In that role, I studied overseas at the Daawa University Institute and the University Institute for Islamic Studies in Lebanon, where I received my bachelors, masters, and doctorate degree in Islamic studies. Additionally, I earned a certificate of "Apostolic Succession", which is only earned by a select few.
Aside from being the senior Imam at ISGOC, the chairman of Islamic studies at both Phillips Theological Seminary and St. Paul School of Theology, advisory board member of CAIR, advisory board member of the Wimberly School of Religion, I am also in charge of organizing outreach and curriculum with the Muslim and non-Muslim communities throughout Oklahoma. I also work as a public speaker and am regularly booked to address audiences at academic institutions, government functions, and interfaith events.
Contact Information
First Floor West
Gold Star Building

Oklahoma City, OK 73106