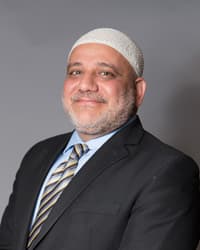 Imad Enchassi, Ph.D.,
Religion
Religion
Biography
Courses
World Religions, Roots of Islam, History of Islam in US, 9-11 and misconception of Islam, Interfaith and Pluralism, Survey of the Major Themes of the Quran, Islamic Theology, Arabic
About Me
Dr. Imad Enchassi is currently the Chairman of Islamic Studies, Chaplain and professor at the Wimberly School of Religion at Oklahoma City University. He serves as an adjunct professor of Islamic Studies at Phillips Theological Seminary and St. Paul's School of Theology. He is also the Senior Imam at the Islamic Society of Greater Oklahoma City.
Dr. Enchassi grew up in a Palestinian refugee camp in Beirut, Lebanon. He spent his childhood surrounded by war and conflict but became a volunteer as a white helmet for the Red Cross during the war when he was a teenager.
Dr. Enchassi has over 8 Associate's, Bachelor's, Master's and Ph. D degrees from Texas Tech University, South Plains College, Southern Nazarene University, University of Phoenix and Dawa University. He has earned degrees in Human Resources, Leadership and Islamic Studies. His courses include Introduction to World Religions, Introduction to Islam, Religious Pluralism and Interreligious Dialogue, Judeo-Christian Roots of Islam, The Muslim Experience in America, and Survey of the Major Themes in the Quran.
In 2004, Dr. Enchassi became the founder and executive director of the Mercy Education Foundation and the president and Imam of the Islamic Society of Greater Oklahoma City (ISGOC). Many philanthropic initiatives and programs have been started under Enchassi's leadership including the Mercy Food Pantry, the Shifa Clinic and the Mercy Cemetery – Oklahoma's first Islamic cemetery. Mercy School is an established K – 12 school in Edmond, Oklahoma and the Shifa Clinic is a free clinic across from ISGOC.
Dr. Enchassi has served on various advisory councils and educational boards including for the Council on American Islamic Relations, Mercy School in Edmond and the Inclusion and Diversity Consortium by Schnake Turnbo Frank. He is a highly requested public speaker for academic institutions, interfaith events and statewide government functions because of his expertise in comparative religions, interfaith dialogue, human rights and Muslim principles.
Dr. Enchassi has received much recognition from the Oklahoman community including CAIR Oklahoma's 'Lifetime Achievement Award', Oklahoma City's Dialogue Institute 'Dialogue Award', the Interfaith Alliance's 'Community Service Award', and the OCCJ 'Humanitarian Award'. Dr. Enchassi has been published in multiple articles and newspapers including The Oklahoman, The Journal Record, NonDoc Media, GoodFaith Media and has been interviewed by various news channels, podcasts and journalists. He has also been featured in media outlets including CNN, MSNBC, ABC, BBC and Al-Jazeera.
Dr. Enchassi resides in Oklahoma City with his wife, children, and grandchildren. He is a published author with his book, Cloud Miles, and is currently working on his second book, 'Survey of the Quran'.

Contact Information
First Floor West
Gold Star Building

Oklahoma City, OK 73106