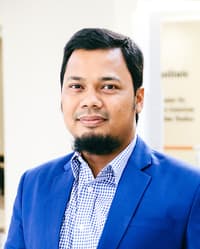 Jabir Rahman, Ph.D.,
Ronnie K Irani Data Analytics Assistant Professor for Data Analytics and Artificial Intelligence
Data Analytics & Economics
Biography
Education
Ph.D., Business Information and Technology, University of Memphis
M.S. University of Memphis
Dr. Jabir Rahman is an accomplished assistant professor of data analytics at Oklahoma City University. He earned his PhD in Business Information and Technology from the University of Memphis, where his research focused on human AI interaction, with a specific emphasis on AI aversion.
Areas of Expertise
Dr. Rahman is widely recognized for his expertise in leveraging data-driven decision making to drive tangible business benefits. His research has made significant contributions to the field of data analytics, and his work has been published in top Information Systems (IS) conferences, where he has presented his findings to esteemed academic and industry professionals.
In addition to his research accomplishments, Dr. Rahman is a dedicated educator. He has had the privilege of teaching both undergraduate and graduate students, guiding and mentoring them to excel in the field of data analytics. He strongly believes in the transformative power of education and is committed to empowering students with the necessary skills to succeed in this rapidly evolving field.
Joining Oklahoma City University as an assistant professor of data analytics marks an exciting chapter in Dr. Rahman's career. He is thrilled to be part of an institution that values research collaboration and fosters a supportive and engaging environment. Driven by his passion for advancing the field of data analytics, he is eager to contribute his expertise and collaborate with colleagues to make a meaningful impact in the industry.
With his extensive research experience and notable publications in top IS conferences, Dr. Rahman brings a wealth of knowledge to the university. He is dedicated to providing a nurturing and intellectually stimulating environment for his students while actively contributing to the advancement of the field.

Contact Information
MSB 311E
Meinders School of Business

Oklahoma City, OK 73106