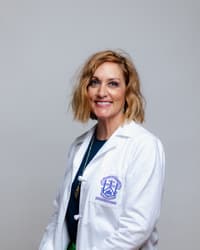 Jaime Johnson, MHS, PA-C,
Clinical Associate Professor and Clinical Director
Physician Assistant
Biography
Jaime is a native Oklahoman from Midwest City and a graduate of Mount St Mary High School. She completed her undergraduate studies while on a softball scholarship at Kansas Newman College in Wichita, KS. She earned her Bachelor of Science degree in Biology in 1998. She attended the University of Oklahoma Health Science Center graduating with a Masters of Health Science degree in 2001. Jaime has been certified by the National Commission of the Certification of Physician Assistants (NCCPA) since 2002. She is also a member of the Oklahoma Association of Physician Assistants, the American Academy of Physician Assistants and now the Physician Assistant Educator Association.
Prior to joining the OCU PA Program faculty, Jaime had practiced medicine in Women's Health for 6 years as well as Orthopedic Surgery for the last 11 years. Throughout her career she has been involved as a guest lecturer for the PA Program at the University of Oklahoma and Oklahoma City University. She also contributed her time to teach students on clinical rotations as a preceptor.
Jaime lives in Choctaw with her husband and two sons. She is excited to start a new chapter in life educating and training future physician assistants.
Contact Information
Physician Assistant Program, Suite 216D
Sarkeys Science & Math Center

Oklahoma City, OK 73106