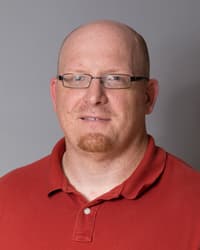 Jason Miller, Ph.D.,
Exercise and Sport Science
Exercise & Sport Science
Biography
Dr. Miller has been involved with strength and conditioning and barbell sports over 25 years, either as an athlete, strength coach, or weightlifting coach, and now as a professor and researcher. He has always been passionate about the movement sciences and all the practical ways that a degree in Exercise and Sport Science can translate into improving the lives of others, whether through sports performance, rehab science or health science.
With so many career options in Exercise and Sport Science, there is a place for any student that enjoys the science of movement. Here at OCU we have created an Exercise and Sport Science program that gives the student everything they need to find their place professionally while learning under professors that not only hold the highest degrees but also have extensive practical experience.
Dr. Miller is also the head coach of the OCU Barbell Club. For for information on the club or the weightlifting scholarship, please contact him at [email protected].
Academic Courses Taught
ESS 2203 Applied Anatomy
ESS 3413 Kinesiology and Biomechanics
ESS 3403 Physiology of Exercise
ESS 4703 Programming Techniques for Strength and Conditioning
Research Interests
Predicting sports performance from performance assessments, sets and repetition schemes for strength and hypertrophy gains, rate of force development and performance, the relationship of training volume and tapering with athletic performance.
Books
Foundational Weight Training: A Practical Guide for the Trainer, Coach and Barbell Enthusiast, by Jason Miller and Mark DiSanto
Selected Publications and Presentations

Ventresca, HC. & Miller, JD. (2015). Rate of performance increase in female American weightlifters over ten years of competition. American College of Sports Medicine-Central States Chapter Meeting: Warrensburg, MO, U.S.A.
Howell, DE, & Miller, JD. (2014). Selected predictors of hip/ankle mobility for baseball pitching performance and ball velocity. International Journal of Exercise Science, 2(6). [Conference Proceedings-Texas ACSM].
Agre, EM, & Miller, JD. (2014). Correlations between physical characteristics and hip pain in dancers. International Journal of Exercise Science, 2(6). [Conference Proceedings-Texas ACSM].
Miller, JD, & Alsarraf, B. (2013). Selected predictors of volleyball playing ability in female collegiate volleyball players. National Strength and Conditioning Association – National Conference: Las Vegas, NV, U.S.A.
Miller, JD, & Agre, E. (2013). Selected predictors of championship cross country running times in male and female collegiate cross country runners. National Strength and Conditioning Association – National Conference: Las Vegas, NV, U.S.A
Contact Information
LO 117
Loeffler Building

Oklahoma City, OK 73106