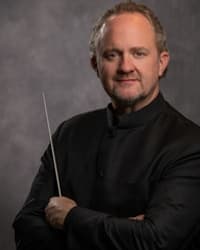 Jeffrey Grogan,
Professor of Music, Director of Orchestral Activities
Conducting
School of Music
Music Conducting & Ensembles
Biography
Jeffrey Grogan is an internationally acclaimed conductor and teacher, dedicating more than 25 years to nurturing musical excellence among young musicians. Mr. Grogan has served as adjudicator, conductor, and clinician for many prestigious national and international events. In 2018 he was invited by the LA Philharmonic to conduct with Gustavo Dudamel and Michael Morgan at Disney Hall, a part of the National Take A Stand Festival. Other conducting engagements include: the Honor Orchestra of America sponsored by Music for All, the National Orchestra Cup at Lincoln Center; and the Honors Performance Series at Carnegie Hall. Recent international work includes conducting festivals at the Sydney Opera House in Australia, the Harpa Concert Hall in Iceland, and venues in Bangkok, Thailand and Singapore. Mr. Grogan has also conducted numerous all-state orchestras and bands throughout the US, and in 2018, was named Master Educator by the Yamaha Corporation of America.
Grogan is currently Director of Orchestral Activities and Professor of Music at the Wanda L. Bass School of Music at Oklahoma City University and Artistic Director of the Oklahoma Youth Orchestras. Previously, Grogan served eleven seasons as Education and Community Engagement Conductor of the New Jersey Symphony Orchestra, and as Conductor and Artistic Director of the NJSO Youth Orchestras, the InterSchool Orchestras of New York and the New Jersey Youth Symphony. His youth orchestras have performed to capacity crowds at some of the greatest concert halls in the world, including Carnegie Hall, the Kennedy Center, Lincoln Center, Smetana Hall, Bartok Hall, Musikverein, and Konzerthaus. He has appeared as a guest conductor at many universities throughout the US from Indiana University to the Manhattan School of Music and the Mannes School of Music Pre-College Division. His work with professional orchestras includes the New Jersey Symphony, Oklahoma City Philharmonic, Little Orchestra Society of New York, Reno Philharmonic, Adelphi Chamber Orchestra, Ridgefield Symphony and the New York Concerti Sinfonietta.
Following his passion for performing and helping to create new music for orchestras, he has collaborated with many composers: Lowell Liebermann, Michael Colgrass, Eric Whitacre, Steven Stucky, Michael Daugherty, Amanda Harberg, Steven Bryant, Dana Wilson, David Sampson, Michael Markowski, and Scott McAllister – and has worked with soloists Richard Stolzman, Stefan Hoskuldsson, Julian Schwarz and the Canadian Brass. Grogan worked on several projects with violinist and composer Mark O'Connor, which included professional studio work in New York City. He also conducted a recording of O'Connor's March of the Gypsy Fiddler with the Ahn Trio and New Jersey Youth Symphony. This CD is recorded on the OMAC Records label and is played on classical music radio throughout the country.
Mr. Grogan is founding Artistic Director of two El Sistema inspired music programs in New Jersey: the Paterson Music Project (PMP) in Paterson and the NJSO CHAMPS in Newark. These two programs currently teach music to more than 500 students.
Prior to his work in New York and New Jersey, Grogan taught conducting and trained future music educators for over a decade at the University of Michigan, Ithaca College, and Baylor University. He is also the former Associate Director of Bands and Marching Band Director at the University of Michigan and Baylor University. Grogan began his career teaching grades 6-12 in DeSoto, Texas Independent School District.
Contact Information
Room B203
Bass Center

Oklahoma City, OK 73106