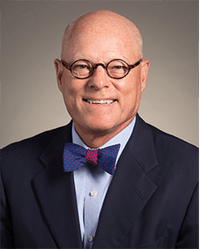 Dr. Jerry B. Vannatta,
Trustee
Board of Trustees
Biography
Alumnus: '70 Bachelor of Arts
Dr. Vannatta, born in Texas, earned a B.A. in Physics from Oklahoma City University in 1970, his M.D. from the OU College of Medicine in 1975; and became board certified in internal medicine in 1980 (recertified in 1993). He commenced his career teaching at the OU College of Medicine and Presbyterian Hospital. He became an Associate Professor of Medicine at the OU College of Medicine in 1984 and professor in 1993.
Dr. Vannatta helped transform the OU Health Sciences Center into the academic and economic engine of healthcare academics, research, and service that it is today. He has served on numerous committees assisting area hospitals, and he has chaired the Oklahoma Health Care Authority, the state's chief provider of medical care for impoverished citizens. The number of awards, and their quality, speak for themselves. In 1979, 1985, 1987, 1988, 1989, 1990, and 2005 he won the Aesculapian Award for Excellence in Teaching the Clinical Sciences, while being nominated for the award nine other times.

He was awarded the Dean's award for Distinguished Medical Service by the OU College of Medicine in 2016 and an Honorary Doctorate of Humane Letters by Oklahoma City University in 2016. He currently teaches in the Medical Humanities program at the OU College of Medicine and serves as Medical Director of a new Physician's Assistant program at Oklahoma City University, where he holds the title of Clinical Professor of Medical Humanities. He also serves as a trustee for OCU. The Oklahoma Higher Education Heritage Society will add one more to this impressive list: a member of the 2016 Oklahoma Higher Education Hall of Fame.