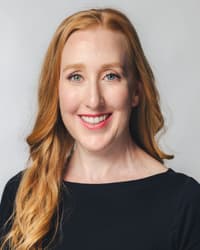 Jessica Fay,
Chair for the Ballet Department & Professor of Dance
School of Dance & Entertainment
Dance Chairs
Biography
Jessica Fay is a versatile dancer, choreographer and teacher with extensive training in ballet, tap, jazz and musical theatre dance. Fay currently serves as Ballet Chair, academic advisor and choreographer for the Oklahoma City University Star Dance Company. As a performer, she has a wide array of professional experiences, including variety shows in Branson, featured roles with the Minnesota Ballet and the Summer Olympic Games. She toured nationally with the Minnesota Dance Ensemble and has performed at Walt Disney World, in halftime shows, dinner theaters and professional musicals. One of the highlights of her performance career was dancing in a United States Goodwill Ambassador tour in Russia, Estonia and Latvia. Fay is originally from Minnesota, where she began her early training with Charlotte Wendel. She received scholarships to pursue additional training with the Minnesota Ballet and the Zenon Dance Company.
Her ballet pedagogy education includes two decades of mentorship from the legendary Jo Rowan and Kay Sandel. She holds a Master of Fine Arts in Dance and a Bachelor of Performing Arts in Dance Performance from Oklahoma City University. She served as artistic director and choreographer for her original dance production, Shades of Love.
She is an ABT® Certified Teacher who has successfully completed American Ballet Theatre's ABT® Teacher Training Intensive in Primary through Level 7 of the ABT® National Training Curriculum. In addition to dance, she is also engaged in artistic administration and arts management. She participated in a faculty development trip to Ireland, where she researched and studied how arts management is conducted on the international level.
Contact Information
221
Gaylord Center

Oklahoma City, OK 73106