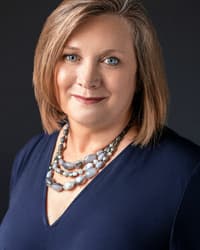 JoBeth Moad,
Assistant Dean for Educational Outreach, Director of Performing Arts Academy
School of Music
Music Deans
Biography
For more than 20 years JoBeth Moad has served as the Assistant Dean of the Bass School of Music at Oklahoma City University in charge of the Performing Arts Academy and the Summer Music Programs.

JoBeth is passionate about the arts and helping students succeed at her alma mater, Oklahoma City University, where she received her Bachelor of Music in vocal performance. She received a Master of Music in opera performance from Rice University.
Her career in arts administration has taken her to New York City, where she served as the Executive Director of the Israel Vocal Arts Institute - a joint project with the Metropolitan Opera and the Israeli government that sponsored opera workshops each summer in Tel Aviv - and to Atlanta, Georgia where she served as the Coordinator of Community Music Programs at Georgia State University.
An active participant in the Oklahoma City arts community, she has served on several boards dedicated to the arts and arts education and continues to sing and teach professionally. JoBeth lives in Edmond, OK with her daughter Emma.

Contact Information
Room FA 202
Bass Center

Oklahoma City, OK 73106