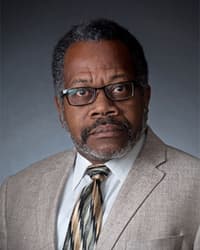 John Veal Jr.,
Trustee
Board of Trustees
Biography
Veal was recently named the Oklahoma District director for the U.S. Small Business Administration after serving as deputy director since 2015.His work with small businesses is actually a second career, one that he ventured upon after almost 23 years in the Army. His work in the Army Finance Corps took him to many assignments, including as finance detachment commander in Desert Storm/Desert Shield and defense military pay officer at Fort Polk, La., and Fort Sill.
After retiring in Lawton in 1995 with the rank of first sergeant, he worked for Cameron University (from which he earned a bachelor's degree before earning a Master of Business Administration from Oklahoma City University) and the City of Lawton. He also operated the Small Business Development Center in Lawton for two years and was honored as the state and regional Veterans Small Business Champion of the year.
He joined the SBA in February 2008 and was a supervisory business opportunity specialist in Richmond, Va., and business opportunity specialist and veterans' affairs officer in Oklahoma City before being named deputy district director. Although Veal's home office is in Oklahoma City, he continues to live in Lawton, where he's been involved in many community activities and organizations. He has been chair for the Leadership Lawton-Fort Sill program (and been honored with the Reuben Brown Award as an outstanding program graduate), and served on the Comanche County Industrial Development Authority and Cameron University Foundation Board of Directors. He's also served as district governor for AMBUCS.
He is a Life Member of Omega Psi Phi Fraternity Inc. and is a past treasurer of the Ninth District of the fraternity. He was named district Omega Man of the Year and recently was inducted in the inaugural class of the Oklahoma State QUES Hall of Fame for fraternal and community contributions. He is president of the Oklahoma State QUES Association and a member of the Ninth District Council.