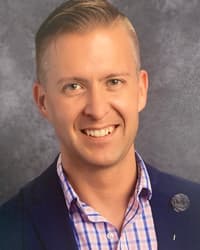 Joseph Ripka,
Director of Early Music Ensemble, Adjunct Instructor of Harpsichord
Music
Instrumental Music
School of Music
Music Conducting & Ensembles
Biography
Joseph Ripka is an internationally respected and acclaimed organist, recognized for his virtuosity and expressiveness. He was the first-prize winner of the Dublin International Organ Competition, the Fort Wayne National Organ Playing Competition, and the San Marino/ Elizabeth Elftman National Organ Competition.
Joseph is in demand as a concert organist and has performed recitals throughout the United States. He received high praise in a review from the Boston Musical Intelligencer for his performance at Holy Cross College in Worcester Massachusetts on the renowned Taylor and Boody Opus 9 instrument. Joseph has performed with the New World Symphony, the Boston Philharmonic, and the Boston Symphony Orchestra under conductors Michael Tilson Thomas, Benjamin Zander, and Alan Gilbert. Mr. Ripka's recitals have been aired on American Public Media's Pipedreams several times; he was invited by Michael Barone to be the featured artist for the 25th anniversary celebration of Pipedreams in 2008 in Minneapolis, Minnesota. During the summer of 2009, Joseph made his European concert debut with recitals at St. Sulpice in Paris, Bavo Kerk in Haarlem, Oude Kerk in Amsterdam, and Hooglandse Kerk in Leiden, Netherlands. Joseph has since played recitals at Westminster Cathedral in London, St. Michael's Church in Dun Laoghaire, St Paul's Cathedral in London, St Columb's Cathedral in Derry, Noorderkerk in Amsterdam, and many more. Joseph's acclaimed YouTube videos have received hundreds of thousands of views and have earned rave comments from around the world.
Joseph holds bachelor's degrees in both organ and piano performance from St. Cloud State University, masters degrees in organ and piano performance from the University of Kansas, the Artist Diploma in organ performance from Oberlin College and a master's degree in organ performance from Yale University. His principal teachers were James David Christie, Webb Wiggins (harpsichord), Derek Rêmes (thoroughbass), Martin Jean, James Higdon, Charles Echols, Jack Winerock and Carmen Wilhite, and Yakov Gelfand. He has coached with Olivier Latry, Marie Claire Alain, Wilma Jensen, Jean-Baptiste Robin, John Scott, and Phillipe Lefebvre as well.
Mr. Ripka is the Canon Musician at St. Paul's Cathedral in Oklahoma City, OK. At St. Paul's, Joseph is director of a comprehensive choral and music program, including two adult choirs and the Cathedral Chorister program, which he inaugurated in the fall of 2021. He also serves as Diocesan Music Missioner for the Episcopal Diocese of Oklahoma.
An internationally recognized organist, Mr. Ripka is also a performing pianist and harpsichordist, He has performed professionally as a pianist in numerous duo recitals and chamber-music concerts and as a continuo harpsichordist in concerts and recitals with Baroque ensembles and soloists. Joseph has conducted numerous complete performances of Handel's Messiah and cantatas of Bach, Buxtehude and Schutz. His repertoire as a keyboardist, conductor and teacher extends from the late Renaissance and early Baroque to the 21st century.
Contact Information
FA 315
Fine Arts Building

Oklahoma City, OK 73106