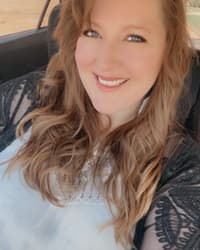 Kristy Benson,
Scenic Charge Artist
Theatre Staff
School of Theatre
Biography
Kristy Benson is the Charge Artist for Oklahoma City University. She holds an MFA in Scenic Design is from Illinois State University. Her BFA is in Speech and Theatre with a minor in Studio Arts is from Northwestern Oklahoma State University. She has enjoyed her experiences working with many areas of Fine Arts such as theatre, dance, music and art.
In January 2015, Kristy received the 2015 KCACTF Region III Theatrical Design Excellence Award for Scenic Design for her design of Water by the Spoonful. She then competed in the KCACTF national convention in Washington, D.C.
Kristy has previously been employed as the Resident Scenic Designer for the University of Central Oklahoma, an Assistant Scenic Designer for the Pacific Conservatory Theatre, several summer stock and repertory theatre companies, Stage Crew Apprentice for the Santa Fe Opera, and scene shop staff for Illinois State University and Northwestern Oklahoma State University.
Kristy's passion runs deep for the arts. Whether she works with theatre, studio art or dance, she tries to keep her eyes open for innovative inspiration and ideas. As a scenic designer and scenic artist, it is Kristy's goal to not only continue to design and paint professionally, but to one day become a theatre educator so that she may inspire the next generation of artists.
Some of Kristy's hobbies include reading, crocheting, spending time with her dog and her cat, yoga, swing or ballroom dancing, and catching up on her favorite movies and TV shows.
If you are interested in seeing more of her work, please visit https://www.kristybensondesigns.com.