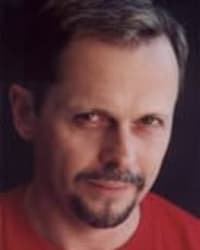 Larry Keller,
Associate Professor of Voice
Voice
School of Music
Biography
Professor Keller is soon to complete his second decade of teaching many of Oklahoma City University's finest and most outstanding vocal talent! He has carved a name and reputation for himself and is nationally know as a fine teacher of voice.
Keller studied extensively for nine years with artist-master teacher Inez Silberg. Like his mentor, Keller teaches with the tenacious detail and dedication to free, beautiful, thoughtful and meaningful singing and is dedicated to continuing Oklahoma City University's legacy as a school known for growing excellent, performing-singer artists. Professor Keller holds degrees in Vocal Performance as well as Piano Performance.
Mr. Keller's students are winners and finalists in regional and national competitions. Most notable are The Metropolitan Opera Grand Finals and Metropolitan Opera regional finalists, regional orchestral sponsored artist competitions, regional and state NATS winners and finalists.
Throughout the country Keller students are awarded positions in opera companies' apprenticeships and artist- in-residence positions. Some are, Glimmerglass Opera, Chautauqua Opera, Wolf Trap Opera, Ohio light Opera, Santa Fe Opera, Seattle Grand Opera, Tulsa light Opera, Fort Worth Opera, Wichita Opera, Kansas City Opera.
Keller's students have also performed at the following opera houses and with the following symphonies:
Florida Grand
Chautauqua Opera
Austin Opera
Lyric Opera of Kansas City
Cincinnati Opera
Indianapolis Opera
The Metropolitan Opera
Des Moines Opera
Caramoor Opera
Michigan Opera Theater
Utah Opera
St. Louis Opera
Fort Worth Opera
Wexford Festival Opera
Handel and Haydn Society
Philadelphia Orchestra
Glimmerglass Opera
Tulsa Opera
Santa Fe Opera
Seattle Opera
Detroit Opera
New York City Opera
Chicago Opera
Rome Festival
Wolf Trap Opera
National Symphony Orchestra
Chicago Lyric Opera
Wichita Opera
Washington National Opera
Seattle Symphony
Portland Opera
Israel Philharmonic Orchestra
At OCU Keller works with Music Theater Voice Majors as well as Vocal Performance. His Music Theater majors, both current and graduated are consistently heard in National touring musicals and are busy working throughout the country and on Broadway.
Keller continues the nurturing of many of his students past their time at OCU. Sarah Coburn, among others, frequently visits and consults with Professor Keller. In addition, Keller students are making names for themselves as voice teachers at universities and other music teaching institutions.
Professor Keller would love to hear from all those whom he has guided in the past eighteen years at OCU as well as those wishing to work with him in the future.
Contact Information
A336
Bass Center

Oklahoma City, OK 73106