Loknath Sai Ambati, Ph.D.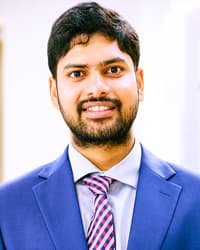 Loknath Sai Ambati, Ph.D.,
Ronnie K Irani Data Analytics Assistant Professor for Data Analytics and Artificial Intelligence
Data Analytics & Economics
Biography
Education
Ph.D., Information Systems specialized in Artificial Intelligence, Dakota State University M.S., Data Analytics, Dakota State University B.Tech., Electronics and Communication Engineering, Vellore Institute of Technology
Areas of Expertise
Loknath Sai Ambati is an Assistant Professor of Business Analytics at Oklahoma City University. He earned his Ph.D in Information Systems with specialization in analytics and decision support systems at Dakota State University.
His research interests include Health Information Technology, Population Health, Health Informatics, Social Media Mining, and Data Analytics.
Professional Associations/Publications
His work was published in IGI Global, IIS, BMC Medical Informatics and Decision Making, Journal of Intelligent and Fuzzy Systems, JMWAIS, HICSS, AMCIS and MWAIS.
Besides, he is an active referee of several international journals and conferences like Journal of Intelligent and Fuzzy Systems, Applied Sciences, Computers and Electrical Engineering, Electronics, IEEE Transactions on Industrial Informatics, International Journal of Environmental Research and Public Health, International Journal of Wireless Information Networks, Informatics, ISA Transactions, Journal of Personalized Medicine, Mobile Networks and Applications, Multimedia Tools and Applications, Pattern Recognition Letters, Peer J Computer Science, Sustainable Computing, Sustainability, Transactions on Network Science and Engineering, Transaction on Multimedia Computing Communications and Applications, IACIS, AMCIS, HICSS, IEEE Society on Social Implications of Technology (SSIT), and EIA Asia.
Contact Information
MSB 311G
Meinders School of Business

Oklahoma City, OK 73106