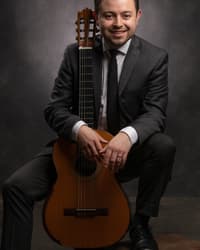 Luis Francisco Venegas,
Performance Manager
Music
Music Staff
Biography
Luis Francisco Venegas is a Colombian guitarist, composer and educator currently living in Oklahoma City. His passion towards music has extended to multiple disciplines throughout his life.
His college instruction includes Southern Nazarene University and the University of Science and Arts of Oklahoma as professor of guitar studies for both institutions.
As an instructor at the after-school music program El Sistema Oklahoma, Francisco led the composition lab for around a decade, creating opportunities for young composers to creatively and successfully express themselves through the crafting of original music pieces, including a world premiere with the Oklahoma City Philharmonic and leading projects in collaboration with PlayUSA (Carnegie Hall).
As a performer, Francisco is involved in several local arts events and venues as a soloist or alongside his duet partner Carey Morrow as Prairie Guitar Duo and with the Celtic band: Lady & The Rovers. His experience with ensemble music allowed him to earn a first and second prize at the Brownsville Guitar Ensemble Competition while collaborating with the Oklahoma City University Guitar Ensemble and Guitar Trio, respectively.
An ambassador of his homeland and Latin heritage: his compositions, like his performances, often portray elements from traditional Colombian music as well as diverse Latin American folklore.
Francisco recently became manager of the long-established music program Oklahoma Youth Orchestras, where he works toward providing quality instrumental music education for outstanding young musicians in Oklahoma City.
Since 2015, the Guitar Foundation of America Convention and Competition has employed his services as Vendors manager and Luthier Showcase director until the present day.
Throughout his career Francisco has participated in multiple master classes including Jason Vieaux, Manuel Barrueco, Joaquin Clerch, The Romeros, Douglas Lora and João Luiz from Brazil Guitar Duo, Ana Vidovic, Bill Kanengiser and others.
Contact Information
B301
Bass Center

Oklahoma City, OK 73106